Essential oil of the month - White Camphor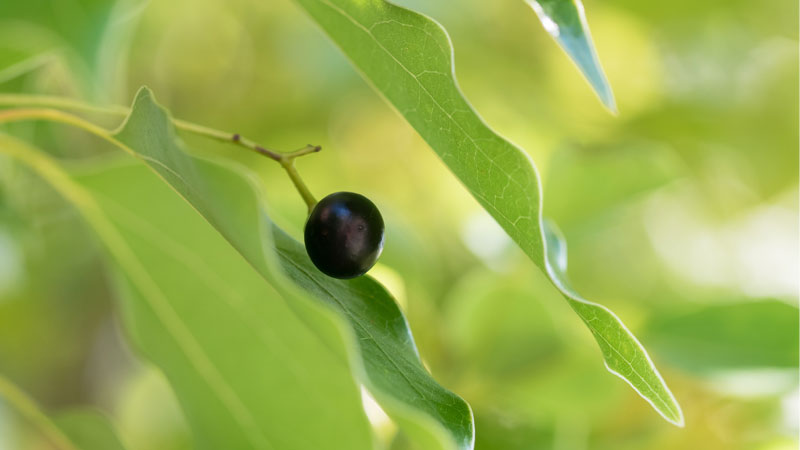 Camphor (Cinnamomum camphora) is a tall evergreen tree from the Lauracea family that is native to China, Japan and Taiwan. Camphor essential oil is steam distilled from the chipped wood and branches and rectified under vacuum to produce four different fractions – white, brown, yellow and blue. Only White Camphor is used in aromatherapy, as all other fractions are toxic and carcinogenic.
Camphor has traditionally been used for both medicinal and religious purposes. It was thought to protect against infectious disease and have a healing effect on mind and body. It was used in medicines to treat colds, skin ailments, digestive problems, stress-related issues, and as a disinfectant in embalming procedures and fumigations at the time of the plague.
Camphor is a middle note oil with an intense, sharp, woody, pungent scent. It's very powerful and stimulating and should be avoided with young children.
Although Camphor must be used with care, it's still worth having in your aromatherapy kit, particularly at this time of year to help combat winter bugs! It also helps balance nervous depression, so when Seasonal Affective Disorder strikes, it's a great choice for lifting the mood. A perfect oil for the colder, darker season!

For coughs, colds, flu & immunity
Camphor is best known for clearing sinuses, aiding respiratory imbalance and generally helping with immunity. If you're suffering with coughs, colds, flu or other bugs give these powerful blends a try:

Blend suggestions:
For nervous depression
As well as physically ridding bugs, Camphor is great for balancing the nervous system and lifting the mood. If you're suffering with the winter blues or seasonal affective disorder (SAD) try this lovely blend to soothe your nerves and lift your spirits.

Blend Suggestion: Diffuse 2 drops White Camphor, 2 drops Geranium and 2 drops Bergamot to calm and uplift you during the day.

For aches & pains
Camphor is also great for relieving aches and pains. Although not recommended for massage, unless done by a trained aromatherapist, it can be a nice oil to add to a bath blend for general relaxation of muscles.
Blend Suggestions:
Mix 2 drops each of White Camphor, Rosemary and Lavender with 15ml of Bath Oil and add to a warm bath for a relaxing, tension-busting soak.
You could also add 4 drops White Camphor and 6 drops Lavender to a bowl of hot or cold water to make a warm or cold compress. Use warm for pain relief or cold to soothe inflammation. Submerge a clean cloth in the water, wring out and apply to the affected area.
Alternative oils you may also love
Eucalyptus, Peppermint, Ravensara, Rosemary.

Camphor blends well with:
Bergamot, Birch, Cardamom, Clove, Eucalyptus, Geranium, Lavender, Lemon, Niaouli, Rose, Rosemary, Thyme.

Safety notes
Use in very small amounts, avoid use with children and do not apply to the skin (unless as directed above).

Nicole Barton
Consultant Aromatherapist