Exploring the Poaceae plant family and its essential oils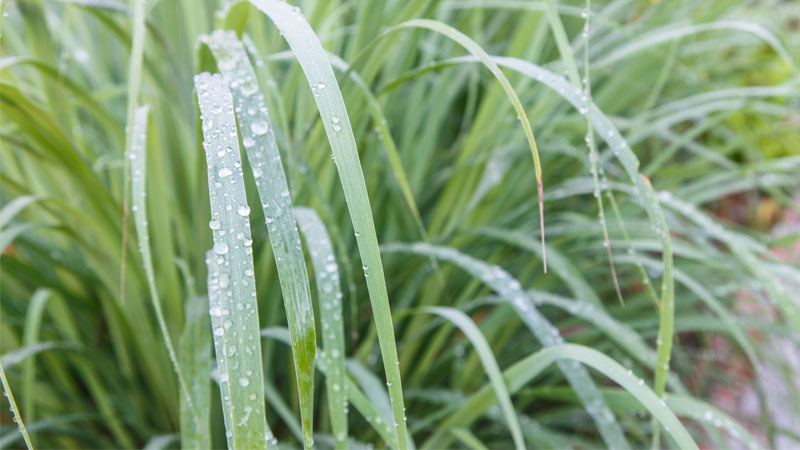 This month, I am reviewing the Poaceae (formerly known as Gramineae) plant family which comprises of flowering plants commonly referred to collectively as grass. The Poaceae family includes cereal grasses, bamboos, grasses of natural grassland, cultivated lawns and pasture and is the world's single most important source of food. Lemongrass (Cymbopogon citratus), Vetiver (Vetiveria zizanioides), Citronella (Cymbopogon nardus) and Palmarosa (Cymbopogon martinii) essential oils belong to this family. The essential oils are generally regarded as safe, however, some, such as Lemongrass, may be skin irritants, so a patch test is always advisable. This can be simply done by putting 1 drop of carrier oil below the crease of the inner elbow, covering with a bandage and leaving for up to 24 hours before checking the area for indication of irritation. Next, blend 1 drop of Lemongrass in 2ml of carrier oil and repeat the same process again. Plants within this family are reputed to have stimulating, anti-inflammatory as well as insecticidal properties, explored in more depth below.
Natural insecticides (insect repellents)
There's nothing nicer than being able to enjoy the outdoors during the summer months, however, this can sometimes be spoiled by insects that bite! Anecdotal evidence suggests that essential oils from the Poaceae family are excellent insecticides. This is supported by scientific research, for example, a study into the efficacy of essential oils using the WHO standard susceptibility test demonstrated the potential for Lemongrass as an insecticide against three species of mosquitoes (Phasomkusolsil, 2011). The insecticidal blend shown below may help reduce the risk of being bitten by those pesky insects!

Apply to the skin after showering. Alternatively, either add the same blend of essential oils into 30ml of distilled water, put in a spray bottle, shake well before use and use as a room spray throughout the day, avoiding furniture, or put up to 10 drops of the essential oil blend in an aromatherapy diffuser or candle burner.
Caution: Do not use on broken skin
Arthritic & rheumatic pain
Vetiver is traditionally used to reduce pain from arthritis and rheumatism. One study into the essential oil suggests that it suppresses the inflammatory responses of macrophages, responsible for cleaning the body of bacteria and dead cells (Chou, 2012), whilst another study evaluated the antinociceptive and anti-inflammatory effects of Vetiver essential oil in rodents, with results indicating possible antinociceptive (inhibits the sensation of pain) and anti-inflammatory effects of the oil (Gabrielle M. Lima, 2012). A synergistic essential oil blend recommended for reducing aches and pains is shown below:
Apply to the affected areas twice a day. Alternatively, add the essential oils to 15ml of Arnica infused oil and pour up to 5 drops of this blend into warm (not hot) running bath water. Soak in the bath for up to 20 minutes.

Caution: Do not use this blend on broken skin, if pregnant or suffering from kidney problems.
I hope you have enjoyed learning about a little more about essential oils from the Poaceae family! I'll continue the series next time, so please let me know if you have a plant family you want to know more about, and I shall do my best to include it.
Christine Fisk
Consultant Aromatherapist
Reference List
Chou, L. L. (2012). Chou, Lai, Lin, & Shih. (2012). Study of the chemical composition, antioxidant activity and anti-inflammatory activity of essential oil from Vetiveria zizanioides. . Food Chemistry, 262-268.
Gabrielle M. Lima, L. J.-J. (2012). Phytochemical screening, antinociceptive and anti-inflammatory activities of Chrysopogon zizan. Revista Brasileira De Farmacognosia, 443-450.
Phasomkusolsil, S. &. (2011). Efficacy of herbal essential oils as insecticide against Aedes Aegypti (Linn.,), Culex Quinquefasciatus (Say) and Adopheles Firus (Peyton and Harrison). Southeast Asian Journal of Tropical Medicine and Public Health, 1083-92.