Essential oil of the month - Pimento Berry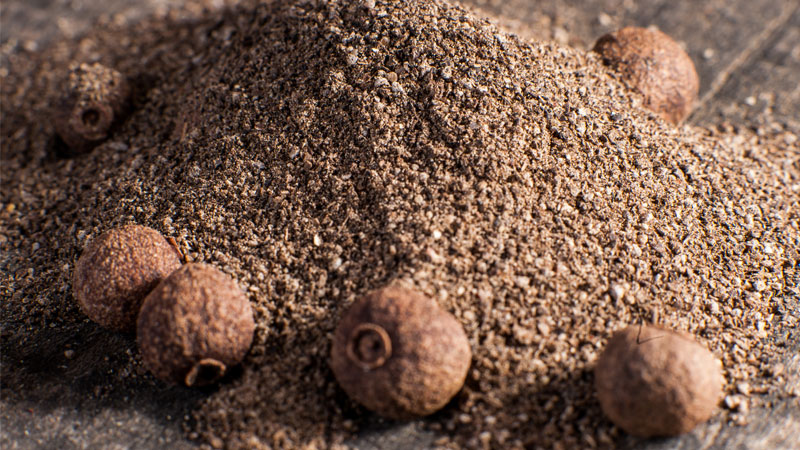 Pimento Berry essential oil, also known as Allspice, is a firm favourite for the Winter months. A warming, comforting essential oil, it is perfect for cosying up with over the festive season.
The essential oil is steam distilled from the dried berries of the Pimento tree (Pimenta officinalis) – a member of the Myrtaceae family. The tree is native to the West Indies and South America where the berries are widely used as a culinary spice. The spice has a strong, pungent flavour and aroma that is similar to several spices combined - namely cinnamon, clove, ginger, nutmeg and black pepper - hence why it is also commonly known as 'Allspice'.
Pimento was traditionally used as an embalming agent, as well as for flavouring chocolate and curing and preserving meats. Russian soldiers also put it in their boots during the Napoleonic War to help keep their feet warm and mask odours. Today it is still commonly used for cooking, fragrancing men's toiletries and flavouring liqueurs such as Benedictine and Chartreuse.
Pimento Berry essential oil is a middle note oil with a strong, sweet spicy aroma. It has a warming effect on the body but isn't quite as fiery as some of the other spice oils. When used in small quantities it produces a lovely, gradual, warming sensation. It is great for poor circulation, soothing aches, pains, spasms, stiffness, rheumatism and arthritis, particularly where symptoms are brought on by the cold weather. It can also be helpful for digestive problems such as stomach cramps, indigestion, nausea and vomiting. In addition to this, the oil has anti-viral properties and can help with respiratory problems such as congested coughs and bronchitis. It is great for warming the emotions and helping dispel stress, anxiety, depression and low mood, and can also be helpful for relieving extreme fatigue. Some say it has aphrodisiac properties too.
Warming aromatherapy blends for wintery aches, pains and stiffness
For aches and pains that seem to get worse in the cold, mix up the following blends to warm, soothe and restore mobility.

Mix 1 drop Pimento Berry essential oil, 3 drops Cinnamon and 2 drops Ginger with 15ml carrier oil and massage into the affected areas in a direction towards the heart.

Alternatively, mix 2 drops Pimento Berry, 2 drops Geranium and 2 drops Bergamot with a solubilising bath base such as our Bath Oil or SLS Free Bath & Shower Gel. Add to your bath water and enjoy a warm, relaxing soak.

Anti-viral blend to boost the immune system
To help keep viruses at bay diffuse 3 drops Pimento Berry, 3 drops Sweet Orange and 2 drops Clove. This will also fill your home with a beautiful festive aroma.

Soothing blend for chesty coughs and bronchitis
Pimento is a great option for clearing respiratory problems such as congested coughs or bronchitis. Try a steam inhalation with 3 drops Pimento Berry and 3 drops Benzoin. Add the essential oils to a bowl of steaming hot water, cover your head, close your eyes and lean over the bowl and inhale the steam for up to 10 minutes.
Comforting blends to lift low winter spirits
If you're feeling a bit low or suffering with the winter blues this comforting oil will help to soothe the nervous system and lift your spirits.

Try diffusing a beautiful blend of 2 drops Pimento Berry, 2 drops Geranium and 2 drops Bergamot in an essential oil burner or diffuser.

You could also try an aromatherapy massage blend to support quiet contemplation whilst meditating: Mix 1 drop Pimento, 2 drops Myrrh and 3 drops Mandarin with 15ml of carrier oil and massage into your chest. Inhale and enjoy the aroma while you meditate.

Alternative oils you may also love:
Cinnamon or Clove.

Pimento Berry blends well with:
Bergamot, Cinnamon, Clove, Geranium, Ginger, Juniperberry, Mandarin, Patchouli, Sweet Orange, Tangerine.

Safety notes:
Pimento can be a potential skin irritant. Use in very small amounts and dilute well. We advise no more than 1% in a massage blend. Avoid contact with mucous membranes.
Nicole Barton
Consultant Aromatherapist