Make your own vitamin rich Rosehip Syrup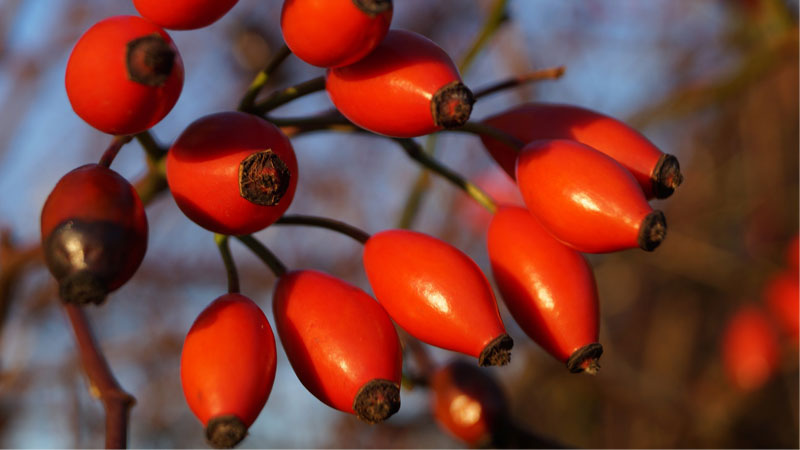 The hedgerows are full of beautiful red Rosehips at this time of year! Whilst we readily gather in the blackberries and sloes, the Rosehip all too often gets ignored - which is a real shame as this vitamin-rich fruit of the wild (or dog) rose makes a wonderful syrup or cordial to boost your vitamin intake and keep Winter coughs and colds at bay.
In World War II children actually used to harvest rosehips and sell them to chemists to make a medicinal syrup.
Rosehips (also known as haws) are typically gathered in October and November - ideally after the first frost when they are ripe and soft, and easier to pick and process. Rosehips are renowned as a traditional British super-food and are rich in vitamins A, C and K, and the B vitamins thiamin, riboflavin, and niacin.
Here is a great recipe for Rosehip Syrup which we've taken from James Wong's 'Grown Your Own Drugs'. Children love this delicious syrup so it's a great one to make in Autumn to keep the whole family healthy!
Vitamin Booster Rosehip Syrup
250g of fresh rosehips
5 cloves (optional)
1 cinnamon stick (optional)
500ml water
approx 125g sugar
Lightly crush the Rosehips and pop in a pan (you can give them a quick blitz in a food processor if you like). Add cloves and cinnamon if you wish, and pour in the water. Simmer for 20 minutes uncovered.
Strain the mixture and add the same quantity of sugar as there is liquid (approx 125g). Stir thoroughly until the sugar is dissolved and then bring to boil. Turn down heat and simmer again for 10 minutes. Let the syrup cool and then filter to ensure that all the tiny hairs from the fruit are removed - these can cause irritation and were traditionally used by children as 'itching poweder'.
Decant into sterilized bottles and keep in the fridge. The syrup will keep for 1 week in the fridge once open and up to 1 year unopened.
How to use:
For cordial dilute 1 part syrup to 5 parts water. Alternatively drizzle the Rosehip syrup over pancakes, waffles, ice cream, yoghurt or rice-pudding.
For children give up to 2 tsp per day.
Immunity boosting essential oils
In addition to making syrup, now's also a great time to be stocking up on those anti-viral, immunity-boosting essential oils. Why not try our Bug Buster and Breathe Easy pre-blended essential oils which are great for fighting bugs and supporting the respiratory system!
Base Formula