Essential oil of the month - Spearmint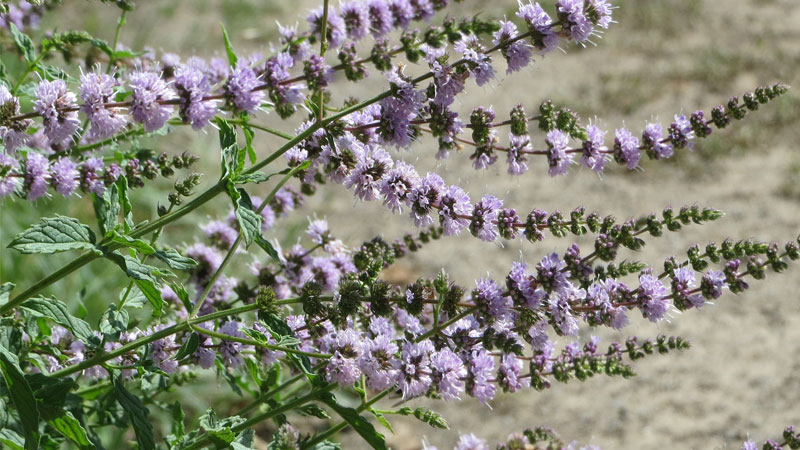 Ah, the Mint family! The perfect tonic - all year round - for digestive troubles! Spearmint (Mentha spicata), also known as garden mint, is an herbaceous perennial plant from the Lamiaceae family which is native to Europe, Asia and the USA. Reaching up to 1 meter in height, it has bright green, serrated leaves and spiky pink or white flowers from which its name is derived (Spearmint translates as 'spiky mint').
Spearmint essential oil is steam distilled from the leaves and flowering tops. It is an invigorating top note that is often compared to Peppermint. What makes Spearmint special though is that it contains less menthol, which means it is milder and more suited to sensitive skins. It is not 'cold' like Peppermint and is generally safer for use with children.
Spearmint's scent is warm and minty. The oil is stimulating and uplifting and is an excellent cleanser and immunity builder. It is also soothing for the skin and can help to relieve headaches and migraines. However, its best affinity is for soothing a multitude of digestive problems, which makes it the perfect choice for our Easter oil of the month (just in case you eat too many Easter eggs or hot cross buns!).
An essential oil for digestive problems
For all things digestive, Spearmint is a blessing! Whether you're suffering from nausea, indigestion, flatulence, Irritable Bowel Syndrome (IBS), or you've just overdosed on Easter eggs, Spearmint is the oil for you! It's also great if you're trying to eat a more balanced diet as it can help balance your appetite.
Blend Suggestion: Diffuse a blend of 4 drops Spearmint essential oil, 2 drops Mandarin and 1 drop of either Grapefruit or Peppermint in an essential oil burner or diffuser to help soothe digestive troubles.
To cleanse and calm the skin
Spearmint is a gentle cleansing, soother for sensitive skin. It can help to alleviate red, inflamed or itchy, irritated skin, as well as helping to cleanse and balance oily skin.
Blend Suggestion: Add 1 drop Spearmint essential oil to 5ml of Cleansing Lotion and use as a cleanser, and/or add 1 drop to 5ml Chamomile Hydrolat and use as a skin toner. You could also add 1 drop of Spearmint to Aloe Vera Gel and use as a soothing face mask for alleviating inflamed skin. Always patch test first.
To keep a cool head – headache and migraine relief
Spearmint is a wonderful essential oil for headaches and migraines as it has cephalic (brain stimulating) properties.
Blend Suggestion: Mix 15ml Aloe Vera Gel, 2 drops Spearmint, 2 drops Basil and 2 drops Lavender and apply to your temples as needed.
To stimulate and the lift the mind
Spearmint is an uplifting, bright, refreshing aromatherapy oil that can be used to lift the mood, stimulate the mind and aid concentration. It can also help to relieve feelings of fatigue.
Blend Suggestion: To stimulate your senses and uplift yourself, create a pulse point roller blend with 10ml Grapeseed oil, 2 drops Spearmint, 1 drop Lemon and 1 drop Bergamot Mint. Mix well and pour into a rollette bottle. Then roll onto your pulse points throughout the day to stay wide awake and energised.
To support the respiratory and immune systems
Another great use for Spearmint oil is in building immunity and helping respiratory issues. When we get ill, Spearmint can help us fight off bugs and improve our resistance. It's a lovely, versatile oil to use for problems such as coughs, colds, asthma and bronchitis.
Blend Suggestion: To help with respiration add 4 drops Spearmint, 2 drops Eucalyptus and 2 drops Ravensara to a bowl of boiling hot water. Cover your head with a towel, close your eyes, lean over the bowl and inhale the scent for up to 10 minutes at a time.
Alternative oils you may also love:
Spearmint combines well with:
Basil, Bergamot Mint, Eucalyptus, Grapefruit, Lavender, Lemon, Mandarin, Peppermint, Ravensara and Sweet Orange.

Overall, Spearmint is a fantastic essential oil, year-round, for any digestive complaints and anything that requires cleansing, stimulating or uplifting. For this time of year in particular, though, it's the perfect way to help curb that Easter eating and settle the stomach after chocolate egg indulgence!

Enjoy!


Nicole Barton
Guest Blogger & Consultant Aromatherapist