Essential oil of the month - Wild Marjoram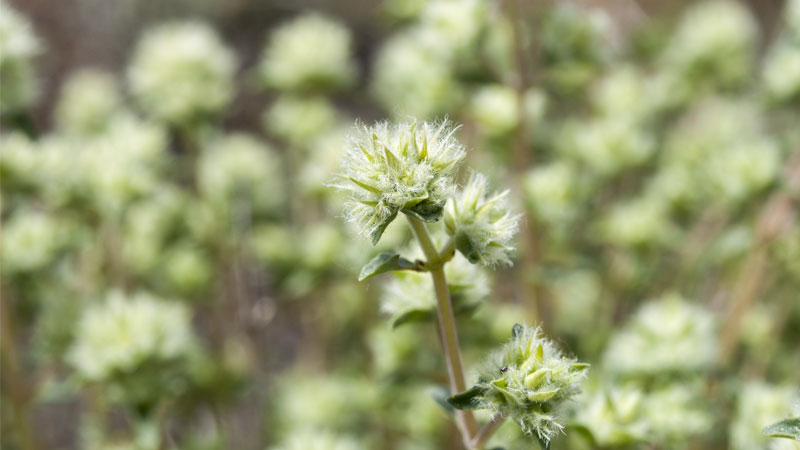 Our essential oil of the month is Wild Marjoram also known as Spanish Marjoram. As per our recent article on knowing your plant families and botanical names, this oil offers a great example of why it's so important to know your botanical names when buying essential oils. Despite its name, Wild Marjoram essential oil is actually extracted from the leaves and flowering tips of a wild-growing species of thyme (Thymus mastichina), a Mediterranean herb, native to Spain and belonging to the Lamiaceae family. It should not be confused with Sweet Marjoram, extracted from Origanum majorana, which has a completely different chemical composition. Wild Marjoram contains a high amount of cineole (eucalyptol) which gives it a stronger, more medicinal aroma.
Wild or Spanish Marjoram was originally used in herbal medicine by the ancient Greeks. The essential oil is now steam-distilled and used in modern day aromatherapy for its analgesic, antispasmodic, antiseptic, antifungal, decongestant, mucolytic and sedative properties.
It is one of the first choices for anything achey – muscles, joints, sprains, strains and stiffness. It is also helpful for viral and bacterial illness, respiratory problems, bruises, cuts, athlete's foot, and for soothing the nervous system and stress-related illness.
Soothing aches & pains
As we have mentioned, with its strong analgesic and antispasmodic properties, Wild Marjoram is one of the best oils for soothing the muscles and joints! Use it in a massage oil for an all-over body pamper or to massage into a specific part of the body!

Blend Suggestion: For a real pain-relieving, circulation increasing, soothing blend, mix 2 drops Wild Marjoram, 2 drops Rosemary and 2 drops Lavender into 15ml Grapeseed oil and massage into the skin in a direction towards the heart.
Respiratory support
Wild Marjoram's mucolytic and decongestant properties make it a really useful essential oil for viral and bacterial respiratory infections. For catarrhal coughs, bronchitis and congested chest ailments, try the following blend. It's also a good one to stop snoring!

Blend Suggestion: To clear congestion and help support the lungs, add 3 drops Wild Marjoram, 2 drops Thyme and 2 drops Cedarwood to a bowl of steaming hot water. Cover your head with a towel, close your eyes, lean over the bowl and inhale the steam for up to 10 minutes.
Cleansing & immune support
With its cleansing properties, Wild Marjoram essential oil is great for the immune system, as well as being excellent for the skin.

Blend Suggestions:
To boost immunity, pop 1 drop of Wild Marjoram and 2 drops of Lemon onto a cotton pad and place inside an Aromatherapy Inhalator to sniff throughout the day!
For treating Athlete's Foot try 1 drop of Wild Marjoram mixed into 5ml of Aloe Vera Gel for topical application.
Soothing the nervous system & stress-related illness
Another lovely use for Wild Marjoram is for its capacity to calm! Its sedative properties make it a lovely choice for an anti-anxiety, de-stressing blend.

Blend Suggestion: To balance your nerves and soothe your system, add 2 drops of Wild Marjoram, 3 drops of Bergamot and 1 drop of Clary Sage, mixed with water, to an aromatherapy diffuser or candle burner and diffuse into the room at any time of day!

Alternative oils you may also love:
Wild Marjoram combines well with:
Bergamot, Cedarwood, Clary Sage, Cypress, Lavender, Lemon, Neroli, Rosemary, and Thyme.

Safety Advice
Do not use Wild Marjoram during pregnancy. Patch test before use to check for skin sensitization.


Overall, Wild Marjoram essential oil makes a great all-year round addition to your aromatherapy collection. It's also particularly useful to have on hand during the Summer months if you're planning on being a 'wild' explorer of the great outdoors. Ideal for aches, pains, knocks, bruises and soothing wild states of anxiety – it has a variety of uses that may suit your more adventurous side!!


Nicole Barton
Guest Blogger & Consultant Aromatherapist