Essential oil of the month - Sweet Orange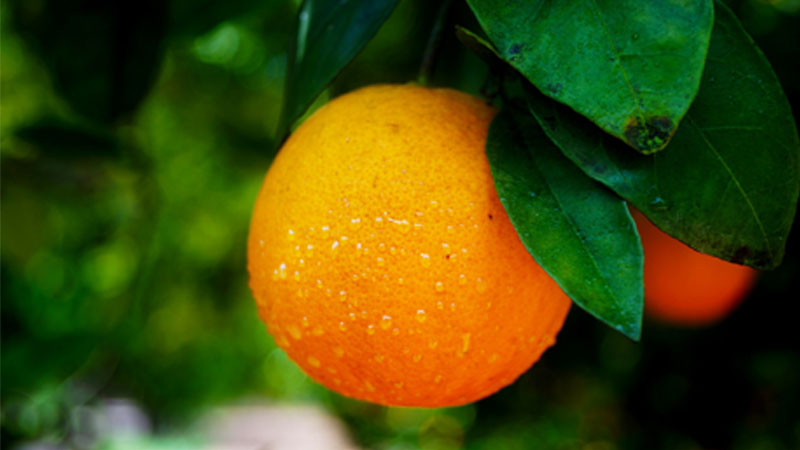 Oh, Sweet Orange! My favourite essential oil! Perhaps the most beautifully summery aroma of all, with hints of Autumnal cheer, Orange essential oil is such a happy and comforting oil.
The orange tree belongs to the Rutaceae plant family and was originally native to the Far East – notably China and India. It now grows abundantly in the Mediterranean, California, South America and Israel. The essential oil is cold-pressed (or sometimes steam-distilled) from the outer peel of the Sweet Orange (Citrus sinensis or Citrus aurantium var dulcis). It is a top-note oil with a sweet, fruity, fresh aroma that brightens up almost any blend. Its uplifting aroma is perfect for boosting the mood. It is also great for relieving stress, anxiety, insomnia, supporting immunity, aiding detoxification, settling digestion and balancing the skin. An absolute must-have oil for your essential oil kit!
Stress-Relief & Anxiety
Sweet Orange's naturally happy aroma encourages an uplifted mood, but it is also relaxing and comforting, making it a great oil for any stress or anxiety related imbalance!

Blend Suggestion:
To uplift the mood, whilst creating a sense of calm, pop 3 drops Sweet Orange, 2 drops Geranium and 2 drops Bergamot into an aromatherapy diffuser or candle burner, and enjoy inhaling the beautiful aroma!

Insomnia
Sweet Orange is a relaxing oil which make it a great choice for insomnia and night-time blends! It is also one of the safest essential oils to use with children.

Blend Suggestion:
To support a good night's rest, add 3 drops Sweet Orange, 2 drops Lavender and 1 drop Ylang Ylang into a diffuser or candle burner, and diffuse for 15-30 minutes before bedtime. For kids, use 2 drops Sweet Orange and 3 drops Mandarin instead and reduce time to 5-10 minutes!

Immunity & Detoxification
Sweet Orange is a great tonic oil and can help to enhance the immune system's function. It's also great for aiding detoxification!

Blend Suggestions:
Digestion
Orange's tonic properties also make it a great oil for digestive problems, particularly constipation, cramps and diarrhoea.

Blend Suggestion:
Mix up a tummy massage blend with 15ml Grapeseed oil, 3 drops Sweet Orange and 3 drops Ginger and massage into the abdomen, in a clockwise direction.

Balancing Skin
Sweet Orange is a great essential oil for skincare as it helps to balance most skin types. It's a great decongestant for oily skin, but helps balance out dry, irritated and mature skin types too.

Blend Suggestion:
Add 2 drops of Sweet Orange to 10ml of Base Formula's Moisturising Lotion – or add into your normal facial moisturiser!

Alternative oils you may also love:
Bitter Orange, Mandarin, Grapefruit, Lemon and Neroli.

Sweet Orange essential oil blends well with:
Clary Sage, Clove, Chamomile, Cinnamon, Frankincense, Geranium, Grapefruit, Jasmine, Lavender, Lemon, Lemongrass, Nutmeg, Rose, and Ylang Ylang.

Overall, Sweet Orange is one of the happiest oils, and so versatile in making a synergetic blend. Definitely one to keep in your kit – don't miss out!


Nicole Barton
Consultant Aromatherapist