Make your own natural cellulite treatment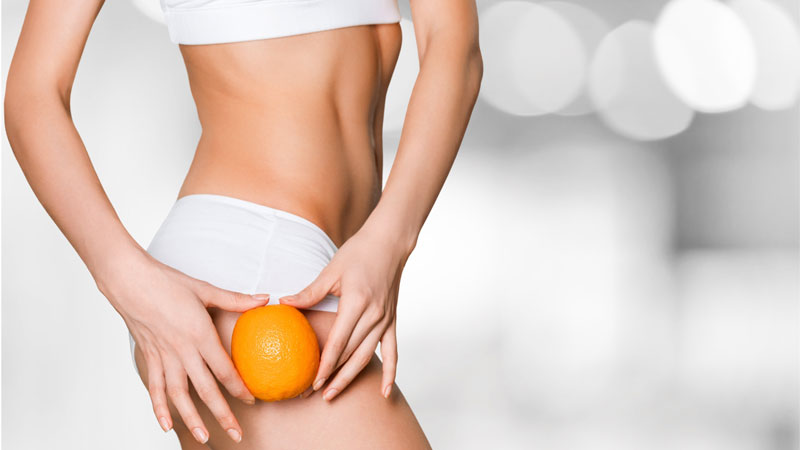 When it comes to looking and feeling great we all want to achieve the best results as naturally as possible, though we can all be swayed by the impressive marketing techniques and promises of some big brand products.
One area there are many products for is cellulite. Around 90% of women are affected by cellulite at some time during their life and some women become quite self-conscious of their body as a result.
What causes cellulite?

The appearance of cellulite is caused by pockets of fat which become trapped in the skin's upper layers, causing irregular and patchy dimpling in the skin. The thighs, buttocks and the abdomen are the most common areas for cellulite to develop. Interestingly (and perhaps unfairly!) virtually no men get cellulite, this is because of the way their tissues lie within the body, in women it is easier for fat to be squeezed out through the tissue and deposited under the skin.
Once you have cellulite it is very difficult to shift though there are some low-cost, natural ways to improve the look and feel of affected areas. These include:

Staying hydrated – drinking plenty of water will help to flush toxins from your system and improve the elasticity and look of your skin.
Eating well – Are you getting your five a day? Eating plenty of fresh fruit and vegetables will improve your general well-being and stop you snacking on unhealthy, calorie-loaded snacks.
Exercising – It needn't be at a gym, a brisk walk, playing with the children or swimming are all great ways to burn calories. You could also try some leg-toning exercises to target problem areas.
In addition to the above, massage can also help to reduce the appearance of cellulite. Massaging effected areas helps improve circulation, which in turn softens the fatty areas and helps them disperse over time. Massage also targets the lymphatic system helping to drain excess fluids and body toxins, which are often associated with cellulite. Given time massage will help break down these fatty lumps and eventually remove them from your body. The use of essential oils in massage can also improve the skin's appearance and further reduce the dimply affect.
How to make your own cellulite massage gel
Our
Aloe Vera & Seaweed Gel
has been expertly formulated to balance the skin's natural moisture levels and improve texture and tone. The nutrient-rich gel contains detoxifying seaweed, which is high in mineral salts, essential amino acids and vitamins A, C, B1, B12, E, K and D and is easily absorbed into the skin. This is blended with Aloe Vera, renowned the world over for its healing properties. Supplying oxygen to skin cells, Aloe Vera helps give strength and elasticity to the skin, leaving it feeling hydrated, soft and supple.
2 tablespoonfuls of Aloe Vera & Seaweed Gel
1 dessertspoonful of Borage Seed (Starflower) Oil
3 drops of Juniperberry essential oil
2 drop of Cedarwood essential oil
3 drops of Grapefruit essential oil
Blend well and after spot testing apply generously to the effected areas. Massage in to the skin using vigorous, upward circular movements. Place any remaining product in an airtight container, store in a cool place and use within 10 days.