Base oil of the month - Jojoba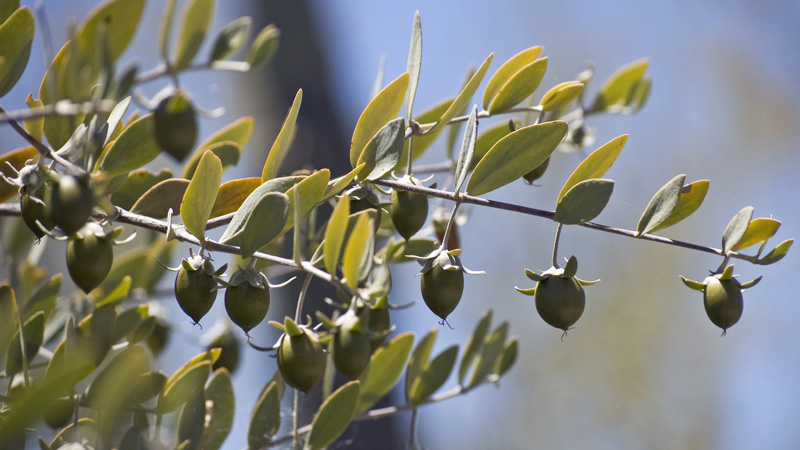 Jojoba oil (Simmondsia chinensis) is extracted from the seeds of the jojoba plant, a desert shrub that is native to Arizona, California and Mexico. Technically speaking, Jojoba (pronounced ho-ho-ba) is actually a liquid wax not an oil – even though it looks and acts like any other base oil. Most other aromatherapy carrier oils are rich in triglycerides however Jojoba is almost completely composed of mono-unsaturated wax esters, which are very similar to the protective wax esters found in the skin's own natural oil, sebum.
Jojoba oil is golden coloured when in its unprocessed form and totally clear and colourless when processed. It is light in texture and rich in essential fatty acids and skin-healing Vitamins A, D and E.
Jojoba has long been used by Native Americans for skincare, skin ailments, haircare and for preserving animal hides. The beans were also eaten by pregnant women to assist with childbirth, and by hunters to stave off hunger when hunting. Researchers have since found that Jojoba beans contain monoglucosides called simmondsins, which are thought to act as an appetite suppressant.
Skincare benefits of Jojoba
Jojoba is excellent for skincare and is used in many cosmetic formulations.
Because Jojoba closely resembles and mimics the skin's own oil, it has a unique ability to penetrate into the deeper layers of the skin, delivering important nutrients to where cell regeneration and cell synthesis occur. It is there excellent for keeping the complexion soft, supple, healthy and moisturised.
Its powerful antioxidant and regenerative properties can help to protect against free radical damage, reduce signs of ageing and repair damaged skin. It can therefore be helpful for fine lines and wrinkles, uneven skin tone, pigmentation, age spots, scars and stretch marks.
Jojoba is equally beneficial for all skin types. It can replenish the skin's natural oil in dry, dull or mature complexions, and it can help to balance sebum production and unclog pores in oily or blemish prone skin. It is also hypoallergenic, making it an excellent choice for even the most sensitive skins, including babies.
Jojoba's natural antibacterial, anti-fungal, anti-viral and anti-inflammatory properties can be helpful for a variety of skin problems such as acne, dermatitis, eczema, psoriasis, cold sores and nappy rash.
Haircare benefits of Jojoba
Jojoba is also excellent for the hair and scalp.
It moisturises, nourishes, smooths and conditions the hair and protects against split ends and breakages. It is also thought to combat hair loss by moisturising the hair follicles – this helps prevent dryness which can then lead to hair loss.
The oil is also great for soothing dry, sore, itchy scalps, cradle cap and dandruff.
Other benefits
Unlike other carrier oils, Jojoba is remarkably stable and has an extensive shelf-life, thanks to its molecular structure which resists oxidisation/rancidity.
As well as being good for the skin and hair, it makes a valuable addition to massage blends (at approx. 10% dilution) as it has excellent slippage!
Blends using Jojoba
Hypoallergenic Make-Up Remover for Face & Eyes
Jojoba is ideal for gently dissolving make-up and daily grime. Pour a little Jojoba oil into the palm of your hand and massage it into your face and around the eyes, being careful not to get it into your eyes. Remove with a warm, damp, soft cloth. It even removes stubborn mascara and is great for the skin – without all of the harsh detergent chemicals often present in standard make-up removers.

Soothing Face Mask for Dry for Sensitive Skin
Mix 3 tsps of Aloe Vera & Rose Gel with 1tsp of Jojoba Oil and massage into clean skin. Leave for approximately 20 minutes before rinsing off.
Body Oil for Dry/Dehydrated Skin
Mix 20ml Jojoba, 10ml Avocado oil, 6 drops Rose, 4 drops Patchouli and 2 drops Geranium and massage it liberally into your skin!
Eczema Treatment Oil
Mix 20ml Grapeseed Oil, 10ml Jojoba, 3 drops German Chamomile, 3 Yarrow and 6 Lavender. Massage into the skin morning and evening, especially after a bath or shower to reduce inflammation and irritation.

Hair Smoothing Serum
Combine equal quantities of Jojoba and Argan oil in a 30ml dropper bottle with a pipette cap. Add in 5 drops Geranium, 3 Chamomile and 2 Lavender and shake well. Apply a few drops to the hands and smooth onto the ends of the hair as required.
Dandruff Scalp Mask
Combine 2 tbsp of Jojoba Oil, 2 tbsp Argan Oil, 6 drops Carrot Seed essential oil, 6 Lavender, 4 Tea Tree and 2 Rosemary. Massage into the scalp and leave for an hour with hair wrapped up in shower cap. Shampoo and condition as normal.


Joannah Metcalfe
Consultant Aromatherapist