Frankincense - A Christmas essential oil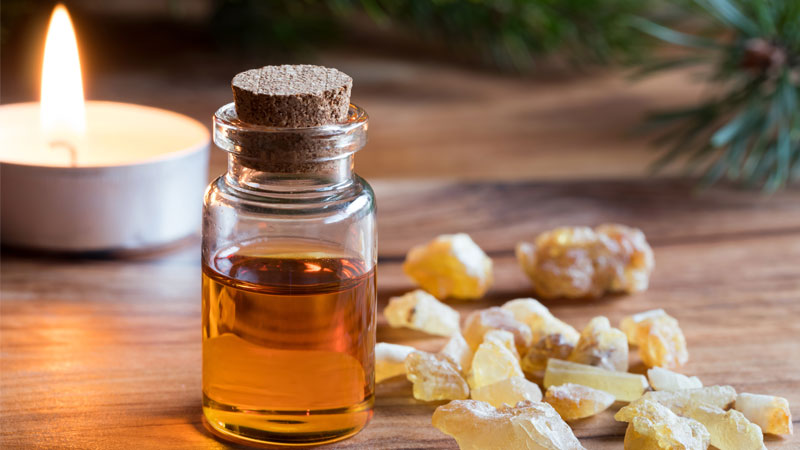 Frankincense was one of the three gifts the three wise men gave to Jesus after his birth, and it is now a popular choice for fragrancing the home at Christmas time. It is hardly surprising that its woody, spicy aroma reminds some people of churches, especially at Christmas, because the oil is used in many Christian churches for aiding meditation, contemplation and quieting the mind (1). While it is a popular essential oil for festive fragrancing, and I look forward to sharing one of my favourite blends with you in this article, I also thought it would be useful to spend some time exploring some of the valuable therapeutic properties and uses of Frankincense essential oil.
Frankincense, sometimes known as Olibanum, is a resin formed from the bark of the Boswellia species; it originates from Africa, Western India and Southern Arabia and was traditionally used as a medicine and in cosmetic preparations. Nowadays, Somalia and Ethiopia, where the Boswellia trees are found in abundance, are major producers of Frankincense essential oil, which is extracted from the tree resin by steam distillation (2).
Frankincense has many pharmacological properties including being anti-microbial and anti-inflammatory. These properties are possibly due to the chemical make-up, for example the chemical constituents include: α-pinene, α-thujene, β-pinene, myrcene, sabinene, limonene, p-cymene and β-caryophyllene.
The dried gum resin of Boswellia carterii has been used in traditional Chinese medicine to alleviate pain and inflammation for thousands of years. In a random, blind study, data showed that Boswellia carterii extract has significant anti-arthritic and anti-inflammation effects (3). This has been further validated by studies carried out by researchers at Cardiff University, who have demonstrated that there is an active ingredient in frankincense that helps relieve arthritis by reducing the inflammation that breaks down cartilage tissue and is the cause of arthritic pain. Other studies show that Boswellia carterii reduces inflammatory conditions such as rheumatism, irritable bowel syndrome, sinusitis, and by inhalation, can reduce asthmatic symptoms (4).
Frankincense essential oil is considered to be non-toxic, non-irritant and non-sensitising. While it blends well with other aromatherapy essential oils such as Sweet Orange, Geranium and Lavender, it is lovely to use by itself. It may be used effectively through inhalation, when bathing and can also be added to base creams and carrier oils before applying to the skin.
For those suffering from inflammatory conditions such as arthritis, rheumatism and irritable bowel syndrome, blend 10 drops of Frankincense into 20ml of Moisturising cream or lotion and apply to the affected area.
For those suffering from the painful symptoms of sinusitis, put a couple of drops onto a tissue and inhale or put a few drops into a candle burner or aromatherapy diffuser.
Reputed to be an excellent oil for stress-relief and for aiding relaxation, Frankincense may also be inhaled to induce feelings of calmness and wellbeing.
For those of you who want ideas on how to create the perfect Christmas aroma, Frankincense blends well with citrus oils such as Mandarin and spicy oils such as Cinnamon, and a combination of all three can be used to make a delightful festive aroma. Simply blend 4 drops of Mandarin, 1 drop of Cinnamon and 3 drops of Frankincense, and put a few drop into your burner or diffuser (following manufacturer instructions) and enjoy!
Whatever you choose to do this Christmas, I hope you all have a very happy time over the holiday period and I wish you a blessed and healthy new year!

Christine Fisk
Consultant Aromatherapist
Read other articles by Christine Fisk

References
Why Did the Magi Bring Gold, Frankincense and Myrrh http://www.biblicalarchaeology.org/daily/people-cultures-in-the-bible/jesus-historical-jesus/why-did-the-magi-bring-gold-frankincense-and-myrrh/ accessed 12/12/2017
Battaglia, S (2007) The Complete Guide to Aromatherapy 2nd Ed. Australia: The International Centre of Holistic Aromatherapy
Fan, et al. (2005), Effects of an acetone extract of Boswellia carterii Birdw. (Burseraceae) gum resin on adjuvant-induced arthritis in lewis rats, Journal of Ethnopharmacology, Vol.101(1), pp.104-109
Mustafa, et al (2016), Frankincense – therapeutic properties, Postępy Higieny i Medycyny Doświadczalnej, Vol.70, pp.380-391