Look and feel great this Summer!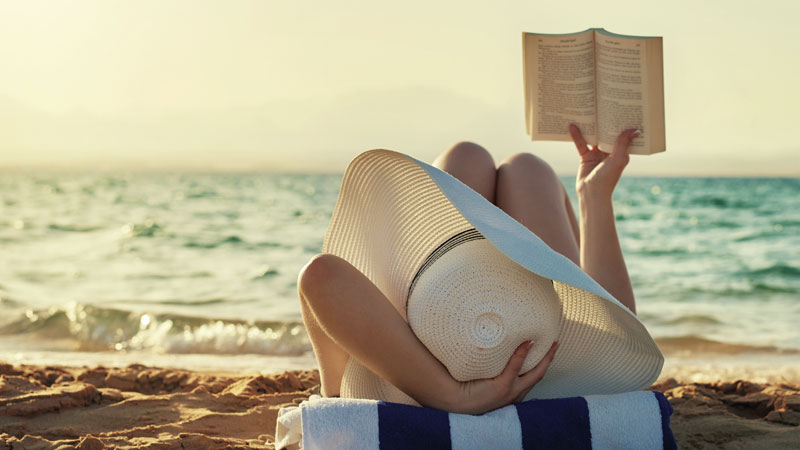 It's an ironic fact that - just when we want to look our absolute best - for our Summer holidays - we often don't! Either we are very tired and our skin and hair reflect that "lack-lustre" feeling, or perhaps we've had a bit too much of that rare British sunshine or time on sunbeds ( yes – lots of people still use them to boost their colour before heading abroad), and our skin is in need of some real TLC – not to mention the rest of our body!
It's important to remember that the condition of our skin and hair reflects our over all health and vitality, so what does your body say about you at the moment?
More lines than normal - particularly facial skin around the eyes: - could indicate dehydration and lack of Essential Fatty Acids – especially if you've been dieting.
Dry hair – perhaps harsh hair colour, straighteners or other treatments have stripped your hair's condition?
Spots and blemishes can be related to stress leading to hormonal imbalance, blocked pores or a lack of certain nutrients.
So whatever the problem, here is our Summer Aromatherapy and Healthcare Guide – to get you feeling, then looking your best for your Summer fun. You need energy and vitality to enjoy yourself properly after all!
Summer Skincare Action Plan
Re-nourish internally & externally
So let's get your skin glowing – from the inside out first – as how you nourish yourself will have the biggest single impact – other than re-hydration! Think about consuming high quality essential fatty acids - eat avocados (in season NOW!) oily fish, nuts and seeds and as much leafy greens as you can get your hands on – organic and locally produced seasonal vegetables will be the highest in nutrients if you can get them.
Try having 2 concurrent alcohol (and caffeine) free days minimum each week – one of the best options if you are working on getting trimmer for your hols.
Think about a mini detox – go without wheat or dairy for a fortnight – you might notice a real boost in your energy levels as both are harder to digest, and cow's dairy produce is mucus forming.
If you feel very run down it might be a good time to have a real vitamin and mineral boost – consider a green juice daily - with spinach and avocado - lime and apple - with a small cube of fresh ginger added for its energising effect.
Give your skin a real rich boost with aromatherapy essential oils and carrier oils – regularly moisturise with the following blend: 50ml Organic Moisturising Cream, 10ml Jojoba, 10ml Evening Primrose Oil, 10 drops Geranium essential oil, 5 Rose, 2 Benzoin and 2 Jasmine.
Re-hydrate internally & externally
Drink 1 glass of warm water every hour – or for flavour and added benefit try adding fresh lemon and ginger; a squeeze of fresh lemon and lime; or a sprig of fresh Rosemary and 2 Sage leaves.
Dry skin too? If you are tired and need to relax, try this delightful aromatic bath: Place the following mix into a clean pop sock (tied at top) or small material pouch with draw string: 2 tsp of dry rose petals (or 1 handful of fresh ), 1 tsp dried rosehips, 1 cup Himalayan Pink Salt, 4 drops each of Lavender, Geranium and Ylang Ylang essential oils. Place into the warm bath water and squeeze out until the Pink Salts have dissolved.
Dry hair, or just lacking lustre? Take 30ml cold pressed Olive oil plus 1 tsp Sesame oil. Add 5 drops Lavender essential oil, 4 Sandalwood and 3 Ylang Ylang. Massage this conditioning oil into the hair and scalp and leave on for 30 minutes, or up to 2 hours, with a shower cap or towel wrapped round your head to keep in the warmth. Wash hair as normal – but remember to massage shampoo in first before adding water.
Re-condition - exercise and relaxation
If you are feeling exhausted and run down but exercising regularly – you may be holding on to the weight around your middle due to adrenal exhaustion. Try ensuring 1 of your 3 weekly exercise sessions is Yoga or Tai Chi, which will help increase flexibility whilst calming the system and encouraging relaxation.
In the mad rush and pace of life – do you actually allow yourself time to unwind? Have a deep aromatic bath with therapeutic bath salts at least once a week, especially if you also suffer from aches and pains - try adding 2 tsp dry Lavender flowers or a few sprigs of fresh flowers to a material bag or pop sock as before, with 2 tsp dried Chamomile or a few fresh sprigs. Add 1 cup Dead Sea Salt, 5 drops Lavender essential oil, 4 Bergamot, 3 Geranium and 2 Jasmine. Squeeze out as per previous instructions.
Re-new - give your skin a tonic!
Exfoliate regularly to stop those dead skin cells blocking pores and deadening your complexion. Try pulping 4 large ripe strawberries, then add 2 tbsp ground oats, 2 tsp single cream, 2 drops Geranium essential oil, 1 Lemon and 1 Lime. Work together into a paste and apply to the face with your finger tips in a gentle circular motion. Leave for 10 minutes then rinse off with cold water. The fruit acids in the strawberries will help to clean out the pores and brighten the complexion.
Don't forget those hydrolats! They make truly wonderful skin tonics and are lovely to use in the Summer as cooling and hydrating facial spritzes. Orange Flower Hydrolat is mildy astringent and is a great one to use on the oilier T-zone. Rose Hydrolat is ideal as a refreshing facial spritz whilst flying, or on holiday, to help cool the skin, tonify the pores and stop your skin drying out. Lavender hydrolat is also a must-have for soothing heat rash, sunburn and insect bites.
Re-energise
Your holiday will help you to recuperate and re-energise, but if you need a boost just to get you there:
Try taking Siberian Ginseng 'Elagen' for the month before you leave to boost your immunity and stamina.
Make up an energy boosting Bath & Shower Gel that will really wake you up each morning. Mix 80ml SLS Free Bath & Shower Gel with 4 drops Plai essential oil, 4 Black Pepper, 5 Neroli, 8 Lime and 8 Bergamot.
Happy holidays!
Joannah MetcalfeConsultant Aromatherapist
Disclaimer & Safety Advice