Spring skincare to revitalise your complexion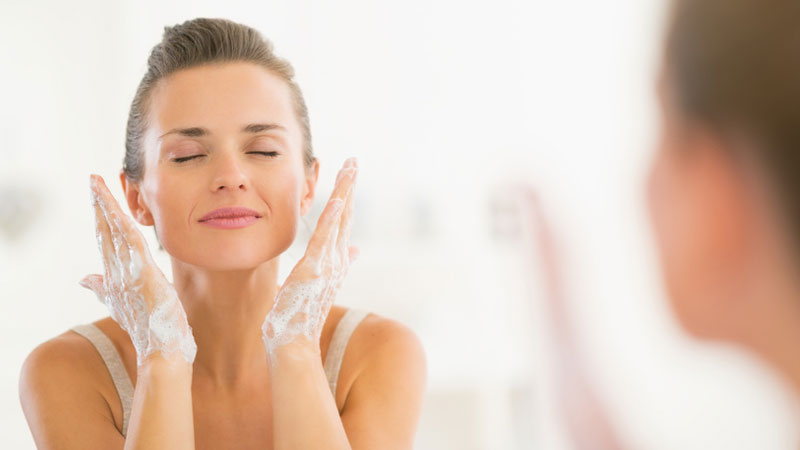 As we emerge from the cold, dark winter months many of us can feel a bit lack-lustre - and this, unfortunately, is often reflected in our skin condition. This is due to a combination of things – lack of vitamin D from sunshine/natural daylight, lack of exercise (many of us get significantly less exercise in the winter months), less fresh food (many of us eat less fresh fruit and salads when it's colder) and low hydration levels (we tend to feel less thirsty in the cold weather). If we combine these factors with a possible low intake of essential fatty acids (and other nutrients), and the drying effects of central heating, it is not surprising that our skin is crying out for help at this time of year!
So just as we may get the urge to have a clear out in our homes and do a good 'spring clean' – why not give your skincare regime an overhaul too - taking advantage of naturally nourishing ingredients which will feed, stimulate and regenerate your skin! If you approach your action plan holistically - you'll reinvigorate and refresh your energy and vitality too!
In this article we are going to focus on caring for mature, dry, oily and combination skins. So read on to find out more about your particular skin type and some of the products that will help get that complexion of yours 'back on track'!
Dry skin
Dry skin is caused by underactive sebaceous glands and a lack of sebum (the skin's natural oil/lubricant). This can be hereditary and can occur as we get older as our skin's oil gland activity starts to slow down. Dry skin is also usually dehydrated as a lack of sebum also reduces the skin's ability to retain moisture. Dry skin tends to look fine and thin with tiny pores. It also shows signs of superficial lines and wrinkles at an earlier age. It is heavily affected by the weather (sun, wind etc) and atmospheric conditions (i.e. air conditioning/central heating). It therefore needs a lot of moisturising and protection.
Recommended essential oils for dry skin are: Chamomile, Rose, Benzoin, Geranium, Lavender, Neroli, Jasmine and Sandalwood. Find out more about these oils on our website.
Other useful products: Chamomile Hydrolat, Rose Otto Hydrolat, Aloe Vera & Rose Gel, Rose Facial Oil, Aloe Vera & Neroli Gel, Neroli Moisture Lotion, Neroli Moisture Cream and Neroli Facial Oil.
Mature skin
As we age, skin cells are not replaced as quickly and skin elasticity gives way to gradual sagging. Mature skin is characterised by wrinkles and crow's-feet, thread veins, blemishes and age spots. A good skincare routine can help slow the signs of ageing. Reducing exposure to the sun and environmental pollution, improving your diet and combating stress are also important.
Recommended essential oils for mature skin are: Chamomile, Rose, Neroli, Carrot Seed, Frankincense, Sandalwood, Myrrh. Find out more about these oils on our website.
Other useful products: Chamomile Hydrolat, Rose Otto Hydrolat, Aloe Vera & Rose Gel, Rose Facial Oil, Aloe Vera & Neroli Gel, Neroli Moisture Lotion, Neroli Moisture Cream and Neroli Facial Oil.
Aromatherapy treatment oil for dry or mature skin
Mix the oils in a bottle and shake well. Massage into the skin 2-3 times a week, following your normal cleansing routine. Leave on for 20 minutes then remove any excess with a cotton pad soaked in Rose or Chamomile Hydrolat. Moisturising may not be necessary following the mask, as it has a deeply nourishing effect.
Oily skin
Oily skin develops due to overactive sebaceous glands which are controlled by hormones called androgens. It is often hereditary and most common in adolescents, although it can affect adults too. Oily skin has a shiny, thick, firm appearance with enlarged pores (due to trapped oil in the follicles) which can look worse if the skin is dehydrated. It can look dirty and neglected, and will feel oily to the touch. Hot and humid climates aggravate oil production, as will harsh skincare products which strip the skin causing it to produce more oil to compensate. Over exfoliating and stimulating massage will also cause excessive oil production. Oily skin can look sallow (asphyxiated) and is more prone to blackheads and spots. Gentle and frequent cleansing, toning and moisturising with a light moisturiser is recommended. A weekly deep-cleansing treatment is also beneficial. For example Green Clay face masks to draw out impurities and excess sebum, and a facial steam to unblock pores and prevent spots from forming.
Recommended essential oils for oily skin are: Geranium, Lavender, Cedarwood, Palmarosa, Niaouli, Juniperberry, Tea Tree, Ylang Ylang, Cypress, Grapefruit and Lemon.
Other useful products: Witch Hazel Hydrolat, Orange Flower Hydrolat,Tea Tree & Lavender Hydrating Gel, Aloe Vera & Seaweed Gel and products from our Recovery Range.
Purifying exfoliating face mask
Grind the oatmeal to a powder in a mortar and pestle. Add the lemon zest, juice, yoghurt, green clay and mix to a paste. You can add more yoghurt to give the right consistency - it needs to be thick enough to stick to the face. Finally add your essential oils and mix thoroughly. Apply a layer to the face (avoiding the delicate eye area) and leave on for approx 10-15 minutes. Remove with a cloth and warm water, then splash the face with cold water. Tone and moisturise as follows.
Skin toner for oily skin
Mix all ingredients in a bottle. Following your normal cleansing routine, take a cotton wool pad and semi-soak the pad so that it is wet but not saturated with toner. Wipe over oily areas of the face, paying particular attention to the "T Zone" (forehead, nose and chin). This will help to remove excess oil and tighten the pores. If the skin still feels oily after the first application repeat until it feels clear. Leave face to dry naturally and then moisturise as normal with a light lotion.
Acne / breakout gel
Tea Tree
on a cotton bud. This will to help dry up the spot and clear any bacteria. Do not squeeze the spot as this will increase the likelihood of scarring or enlarged pores.
Combination skin
Combination skin is common and is characterized by an oily "T-zone" and either dry or normal skin on the rest of the face. The patches of oily and dry/normal skin require different oils/products (as detailed in the individual skin type information above) with the aim of balancing the skin and reducing sebum production.
Nourishing exfoliating face mask
Mix ingredients together and apply to the face (avoiding the eye area). Leave on for 10 mins to enable the nutrients to penetrate the skin. Then place your hands in warm water and massage the skin in the oily areas with a circular motion - this will help to stimulate the release of dead skin cells and unblock the pores. Wash off with cold water and use the toner (from above) on the "T-zone" areas. Moisturise as normal.

Joannah Metcalfe
Consultant Aromatherapist