Base oil of the month - Jojoba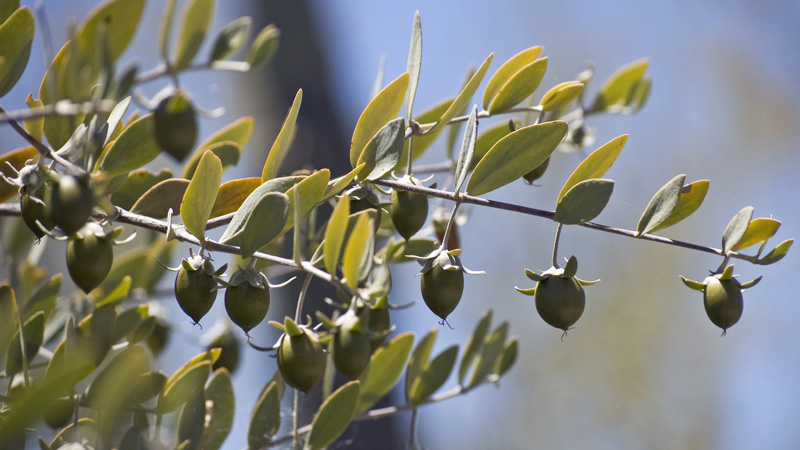 Accurately speaking, Jojoba Oil (Simmondsia chinensis) is a wax not an oil - even though it acts like any other base oil. On a molecular level, it is a chain of mono - unsaturated liquid wax esters. It is a golden colour when in its pure unprocessed form, and totally clear and colourless when processed. It is extracted from the seeds of the plant, which is indigenous to the USA and Mexico, however most commercial farms are now in Israel and Argentina.

Jojoba's properties were discovered in the 1970s, when the use of squalene "harvested" from Sperm Whales, was banned. It has almost identical properties to squalene and therefore became an important replacement ingredient in cosmetic formulations.

Benefits of Jojoba



Unlike most vegetable base oils, it does not contain triglycerides, so it does not go off (oxidise) easily.


Jojoba oil is extremely similar – both chemically and molecularly – to the sebum oil that is produced by the sebaceous glands in the skin.


It is great for sensitive skins, being hypo-allergenic and non irritant , so it can even be safely used around the eyes and mucus membranes.


It is light, highly penetrative and does not clog the pores of the skin.


It is a valuable addition to massage blends – typically at 10% - as it creates excellent "slippage".


It is highly nourishing to the skin, full of nutrients such as protein, minerals, and Vitamin E.


Jojoba Carrier Oil contains antioxidants that help protect your skin from free radical damage.


Surprisingly, this oil also contains antibacterial agents which have an antibacterial and fungicidal action – killing Candida albicans (which can cause thrush).


The nutrients and various constituents also create an anti-inflammatory action – so this oil is a fabulous addition to massage blends for eczema, psoriasis, dandruff, dry skin and skin that is sun damaged.


Blends using Jojoba
Dandruff Scalp Mask:
Combine 2 tbsp of
Jojoba Oil
, 2 tbsp Argan Oil, 6 drops Carrot Seed essential oil, 6 Lavender, 4 Tea Tree and 2 Rosemary. Massage into the scalp and leave for an hour with hair wrapped up in shower cap. Shampoo and condition as normal.
Eczema Treatment Oil:
Mix 20ml Grapeseed Oil, 10ml Jojoba, 3 drops German Chamomile, 3 Yarrow and 6 Lavender. Massage into the skin morning and evening, especially after a bath or shower to reduce inflammation and irritation.
Make-up Remover:
Pour a little Jojoba Oil into the palm of your hand and massage it into your face and around the eyes, being careful not to get it into your eyes. Remove with facial tissues and then splash off residue with cold water. Even takes off stubborn mascara, and is great for the skin – without all of the harsh detergent chemicals often present in make-up removers.
Joannah MetcalfeConsultant Aromatherapist