Rose – Valentine's essential oil of the month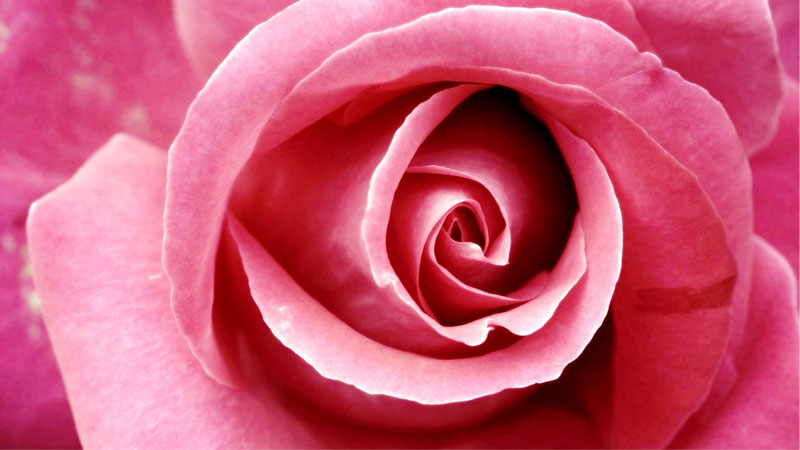 Roses have long been associated with the heart and beauty and have traditionally been given as a symbol of love.
Rose cultivation began in ancient Babylonia and Assyria and was passed on through later civilisations to Europe. Early garden roses were wild species which were grown for their beauty, scent, rose water, rose oil and later for medicinal and horticultural purposes.

The earliest roses are known to have grown over 35 million-years ago and fossilized roses have been found around the world, proving the existence of this flower in pre-historic times. Petrified rose wreaths were even discovered in the tombs of the ancient Egyptians.

The ancient Greeks and Romans worshipped this fragrant flower and identified it with their goddesses of love, Aphrodite and Venus. Rose petals were strewn over the floors on special occasions and sprinkled in their bathwater. Believing the rose to be an aphrodisiac, they sprinkled the petals in their wine and beer. Cleopatra even had her living quarters filled with rose petals to entice Marc Antony. Roman high society women also believed that rose petals could banish wrinkles if used in poultices!

The Greek poetess Sappho described the rose as the "Queen of Flowers", and today, many aromatherapists firmly believe there is no finer essential oil.
Although it is an expensive oil, Rose is one of the best all-purpose essential oils for your aromatherapy collection. It is a tender, uplifting and soothing oil. It not only helps fight depression, grief, anger and fear, but it is also a tonic for the heart and digestive system. Rose is the first choice for helping with female-related problems and is one of the best essential oils to use on the skin thanks to its antibacterial, astringent, anti-inflammatory and skin cell stimulating actions.
Although there are over 150 different species of Rose, the main cultivars used for oil production are Rosa damascena, Rosa centifolia and Rosa gallica (known as the apothecary rose).
Rose Otto essential oil
Rose Otto essential oil has light, sweet, floral top notes with deep rosy undertones. It is extracted by steam distillation of the fresh flowers and is considered by some aromatherapists to be purer and superior to Rose Absolute which is extracted with solvents. Rose Otto tends to be preferred for therapeutic purposes.

Rose (damascena) Absolute
Rose (damascena) Absolute has a deep, rosy, fresh aroma. Most Rose Absolute is obtained from the Rosa damascena which is also known as the damask rose and common to Bulgaria and Turkey. It is obtained via solvent extraction and due to the lower temperatures used in the extraction process the aroma of Rose Absolute tends to be closer to the true scent of fresh rose than Rose Otto. Rose Absolute is often used in the manufacture of perfumes and cosmetics.

Rose (centifolia) Absolute
Rose Absolute can also be extracted from Rosa centifolia which is otherwise known as the cabbage rose or Provence rose. Rosa centifolia is mostly cultivated in Egypt, Morocco and France for its singular fragrance, which is clear and sweet, with light notes of honey. Rose (centifolia) Absolute is obtained from the petals via solvent extraction yielding an oil that has a deep, rich, rosy-spicy, honey-like aroma.

Rose is a highly concentrated and expensive essential oil. For a more affordable, and easy to use option, we also offer Rose Absolute Light (Rosa centifolia Absolute diluted at 5% in Jojoba) and Rose Otto Light (Rose otto essential oil diluted at 5% in Jojoba).

Aromatherapy blends with Rose:-
Aromatherapy Diffuser Blend
Add 3 drops each of Rose, Patchouli and Bergamot essential oil to an aromatherapy diffuser/vaporiser or oil burner for a beautiful mood-enhancing, confidence-boosting, anxiety-busting blend!

Radiance Perfume
Use our Rose Otto Light essential oil as a ready-made pulse point perfume to inspire self-love, confidence and to open your heart.

Grounding / Balancing / Aphrodisiac Massage Oil
Blend 30ml of carrier oil with 2 drops of Rose, 3 drops Cedarwood and 4 drops each of Sandalwood and Ylang Ylang. Alternatively try our Sensuality pre-blended massage oil with Rose, Sandalwood and Ylang Ylang.

Aromatherapy Bath Blend
Mix 2 drops each of Rose, Frankincense and Neroli and 4 drops Geranium with 15ml of SLS Free Bath & Shower Gel. Use as a fragrant body wash or bubble bath. Alternatively mix the essential oils with a cup of full fat milk and add to your bath.

Aromatherapy Bath Salts
Mix 100g Dead Sea Salt with 2 drops Rose, 4 Geranium, 8 Bergamot and 10 Lavender.

Body Moisturiser (ideal for sensitive skin)
Mix 100ml Organic Moisturising Lotion, 5ml Jojoba, 5ml warmed Extra Virgin Coconut Butter, 10 drops Lavender, 2 drops German Chamomile and 2 drops Rose.
PMS Massage Blend
Blend 1 drop of Rose, 2 drops of Bergamot and 4 drops of Lavender with 15ml of carrier oil and massage into the back and tummy. Always remember to massage the tummy in a clockwise direction and avoid while menstruating. Ideal for treating low mood and painful periods.

Complexion Boosting Facial
Mix 1 tbsp Kaolin Clay, 1 tbsp Aloe Vera & Rose Gel, 1 tsp of Rosehip Seed Oil, 1 tsp runny honey, 2 drops Rose essential oil, 2 drops Geranium and 4 drops Bergamot. Mix until you have a thick, yoghurt-like paste. If it's too thick you can loosen it with a little Rose Otto Hydrolat. Apply to the face and neck after cleansing, avoiding the eye area.
Soak 2 cotton pads in Rose Otto Hydrolat and place over the eyes. Lie back and relax for 10 minutes.
Remove the cotton pads and rinse the clay mask off with warm water. Splash the face with cold water, pat dry and finish with a toning spritz of Rose Otto Hydrolat.
While your skin is still slightly damp, massage in a few drop of our Rose Facial Oil to complete the process, or try the moisturiser recipe below.

Facial Moisturiser for Dry / Sensitive Skin
Mix 50ml Moisturising Lotion or Cream with 5 drops Rose, 2 drops of Lavender and 4 drops Carrot Seed.
Happy Valentines!