Aromatherapy essential oils for Christmas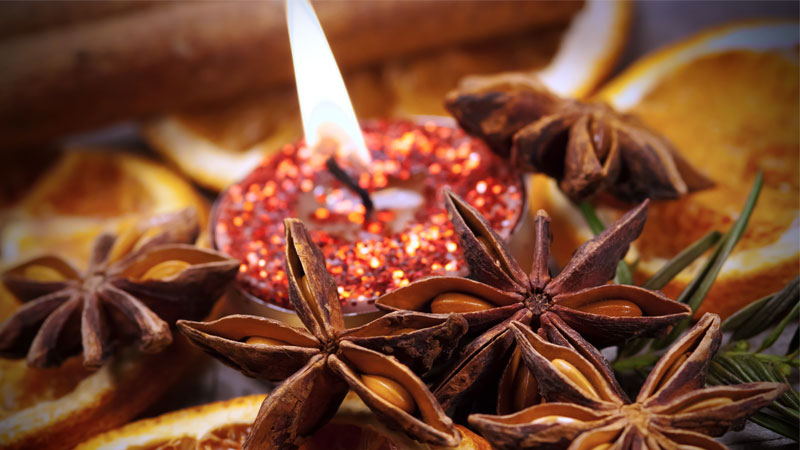 For many people, Christmas isn't the same without beautiful aromas of festive pot pourri, scented candles and room sprays. The shops are already starting to fill with commercially prepared products containing fragrances such as Cinnamon, Orange, Frankincense and Myrrh to invoke the spirit of Christmas. Unfortunately, many of these products contain harmful synthetic fragrance, rather than natural aromatherapy essential oils.
The dangers of synthetic fragrance
Synthetic fragrances are essentially a cocktail of harmful chemicals derived from petroleum oil, that can include everything from carcinogens, allergens, respiratory irritants, endocrine disruptors, neurotoxic chemicals and environmental toxicants. Statistics shows that popular commercial products contain an average of 14 known toxic chemicals - and this is not always obvious from the packaging. Scary hey?
So, how can we avoid them? Firstly, if you want to buy scented products such as candles, pot pourri or reed diffusers this Christmas, look for products that contain aromatherapy essential oils as their main source of fragrance, and avoid products that feature 'parfum' or 'fragrance' in their ingredients list, as these two words can hide a multitude of sins!
The best way to ensure you're getting 100% pure and natural fragrance, that can actually improve your health and wellbeing (rather than detract from it), is to make your own. It's relatively cheap and easy to do and can be lots of fun too!
There are many different combinations of essential oils that work well together at Christmas time, so it's best just to experiment and find out what works best for you. To get you started we've listed our favourite festive essential oils along with some recommended blends to get those creative juices flowing.
Popular essential oils for Christmas
| | | | |
| --- | --- | --- | --- |
| Citrus oils | Coniferous oils | Resinous oils | Spice oils |
| Lemon | Black Spruce | Frankincense | Cardamon |
| Sweet Orange | Pine Needle | Myrrh | Cinnamon |
| Mandarin | Fir Needle | | Clove |
| Tangerine | | | Ginger |
| | | | Nutmeg |
| | | | Star Anise |
How to use your oils
Before you get started there are some general guidelines worth observing when making your own Christmas aromatherapy blends. For example: Cinnamon and Ginger can be overpowering and, if used in high quantities, may cause irritation to mucus membranes. Nutmeg should also be used with care because, according to some experts, it may cause hallucinations. We'd suggest, therefore, only using a couple of drops of these essential oils in combination with more gentle oils such as Mandarin, Sweet Orange, or Tangerine. Whilst citrus oils can also be successfully blended with Frankincense, it is such a beautiful oil, that it can easily be used on its own to provide a much-needed peaceful ambiance during, what can be, a frenetic time of year.
The easiest way to use your aromatherapy essential oils over Christmas is to mix 3 complementary oils and put 6-8 drops into an aromatherapy diffuser or candle burner. If you don't have either you could simply pop the oils onto cotton buds and place them on the radiators throughout your home. The heat from the radiators helps to release the aromatic scent and they can be easier to use and less messy than oil burners. Other ideas are to sprinkle your oils on Christmas decorations, pine cones or make your own festive pot pourri. You can also use your oils for natural room sprays and for scenting natural fragrance-free candles. To make a natural room spray mix 20-30 drops of your essential oil blend with 30ml of grain alcohol (e.g. vodka) and make up to 100ml with distilled water. Shake well before use and avoid spraying on soft furnishings or polished surfaces. For candles, light your candle and wait for a little wax to melt before carefully adding 1 drop of your chosen blend to the melted wax (remember that essential oils are flammable so take care to avoid the flame when adding the oil – or blow the flame out and relight once you've added your oil). Always remember to keep your oils away from naked flames and Christmas tree lights.
Our favourite essential oil blends for Christmas
Still not sure where to start, here are some of our therapists' favourite seasonal essential oil blends which are guaranteed to get you in the festive spirit. Make up the blends and then use as directed above.
4 drops Sweet Orange essential oil, 2 drops Star Anise and 3 drops Pine OR Frankincense
5 drops Clove Bud essential oil, 4 drops Cinnamon, 3 drops Sweet Orange and 1 drop Lemongrass
6 drops Fir Needle essential oil, 6 drops Tangerine, 3 drops Star Anise and 2 drops Pine
4 drops of Cedarwood, 4 drops Fir Needle and 4 drops Frankincense
8 drops Star Anise, 3 drops Lemon and 3 drops Frankincense
6 drops Sweet Orange, 3 drops Frankincense and 3 drops Myrrh
4 drops Mandarin, 3 drops Frankincense and 1 drop Cinnamon
4 drops Sweet Orange, 1 drops Cinnamon and 1 drop Nutmeg
3 drops Mandarin, 3 drops Myrrh and 3 drops Pine
5 drops Sweet Orange, 3 drops Black Spruce, 2 drops Frankincense
Although it may be tempting to purchase commercially produced products this Christmas, we believe there is nothing more satisfying than creating your own 100% natural blends. Using therapeutic aromatherapy essential oils gives you the confidence of knowing that you won't end up with a headache, tight chest or feeling nauseous, as can sometimes happen with artificial fragrances. You can also rest safe in the knowledge that you, your family and your pets are less likely to experience sensitivity or allergic reactions to your home-made blends! And don't forget, essential oils have powerful therapeutic properties too, so not only will these natural blends smell amazing, they'll also be working to enhance your health and wellbeing at the same time.
So, get creative, have fun and enjoy a happier and healthier Christmas with nature's finest essential oils.
If you're short on time and looking for convenience, but still want 100% natural fragrance, check out our fabulous trio of Christmas essential oils which have been expertly pre-blended and are ready for you to use!
Base Formula
Disclaimer & Safety Advice