Discover the powers of the Summer herb garden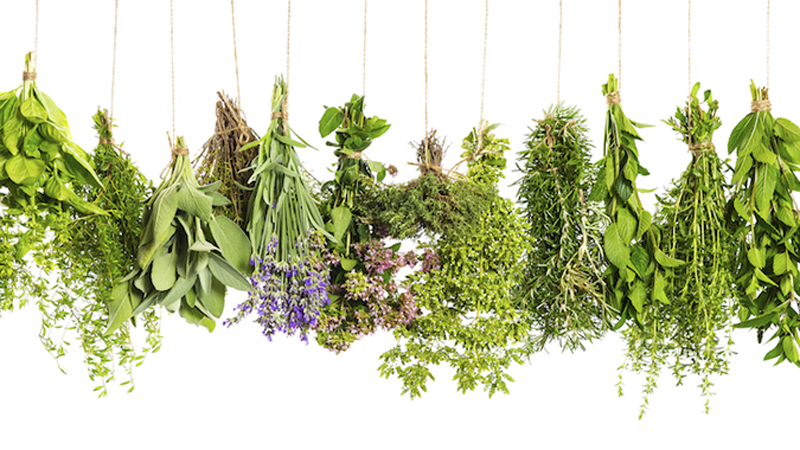 Herbs are incredibly cheap to buy, easy to seed and grow, with many growing profusely once established. Most are perennial, and many of those that aren't are easy to gather seeds from, if you let them "run to seed" at the end of the season.
As many herbs originate from the Mediterranean, most are also hardy in long, dry Summer-times, or drier areas of the garden.

Most herbs are also an excellent option for "first time gardeners", as they are not easily predated upon by garden pests, due to their very strong scent and bitter taste. They also – very importantly - provide wonderful flowers for bees and wild pollinators, especially Lavender, Sage, Borage, Thyme, Chives and Chamomile.

Herbs can be grown effectively in small gardens, on balconies, in window boxes and verandas and even inside, so they really do represent the perfect option whatever your circumstances.

Some herbs, such as Comfrey - often referred to as the "miracle herb" - can be used to create free garden fertiliser for hungry food producing plants, and even helps plants susceptible to attack from fungi and virus! Comfrey will go well in almost any type of soil, and has an incredibly deep root system – roots will grow down to a depth of 20 – 30 feet - which is one of the reasons why it is able to draw up a huge range of trace minerals and nutrients that are unavailable to many other plants. It is said to be the only plant to contain a form of Vitamin B12.

We can use Comfrey in 3 different ways in the garden:
As a green fertiliser – just cut up the leaves and sprinkle on the ground to break down and feed your plants and enrich your soil.
To add to your compost heap to activate the decomposition process and increase nutrition.
To make "Comfrey Tea Liquid Fertiliser". Just add cut leaves to a large container of water - leave to rot for 2-3 weeks and spray onto plants.
In this form – this "soluble fertiliser" is rich in many nutrients and minerals – especially copper, and can boost plant immunity and help combat "leaf curl" on fruit trees.

Herbs are also incredibly versatile in the kitchen. They can be a fabulous addition to salads, and add fantastic flavour and colour to a multitude of foods, both fresh, frozen and dried. They dry and store easily, can be harvested regularly throughout the Summer, and used for sweet and savoury dishes, drinks and herb teas. They also help preserve foods and slow down the oxidising action.
Using herbs medicinally
Medicinally, herbs have the most amazing versatility, and have been used for many thousands of years – herbal medicine probably represents the most ancient form of Natural Medicine. Essential oils distilled from herbs represent some of the most powerful oils known to the world of aromatherapy, and we don't always need to use the distillation process to access the essential oils that are so useful and effective.

Essential oils are released (albeit in a less pure and concentrated form) when we add fresh herbs to hot water for herb teas, inhalations, or use bundles of tied herbs for aromatic baths. We can also add herbs to vegetable oils and high quality vinegars for culinary uses.

So whilst nothing will ever replace the sheer ease of use and therapeutic power of pure essential oils and base oils, never under-estimate the medicinal herbs in your garden, and the way they were originally used. They can be easy to use, safe and gentle in their action, and can provide you with a powerful addition to your natural medicine chest.

In addition, there is something inherently gratifying and completely sustainable, in being able to go outside into your garden and harvest what you need to add to the food you eat and the medicinal action you require.
Easy herbal remedies to make at home
Here are some natural remedies to give you further green inspiration!

For indigestion or heart burn (especially after a rich meal), take a few handfuls of fresh Peppermint and add to a teapot or clean cafetiere. Steep for 5 – 10 minutes and sip 1-2 cups. If suffering from bloating and wind, you can include fresh Fennel leaves too. This can also be helpful for irritable bowel syndrome (IBS). You might also find our Digestion pure essential oil useful for a wide range of tummy troubles.
To aid restful sleep do the same as above but using fresh Chamomile flowers. For added effect, sit back and sip this soothing infusion whilst diffusing our Sweet Dreams essential oil.
For eczema place 40g of Roman Chamomile (Anthemis nobilis) flowers in a litre of boiled water and leave to infuse for 15 minutes, before adding to your bath water. You can strain the flower heads out before pouring into the bath if you like. This solution should be made fresh before each bath. Do not store. This is ideal for using with children and babies. If you don't want to make your own infusion add 2 tablespoons of our Chamomile Hydrolat to the bath water instead.
For colic place 40g of German Chamomile (Matricaria recutita or Matricaria chamomilla) in pan with 900ml water. Bring to boil, turn heat to low, cover with lid and gently simmer for 20 minutes. Remove lid and slowly reduce for a further 20 minutes until you have approx. 200ml of liquid left. Add 450g of sugar or honey and simmer gently for a few more minutes, stirring constantly until the solution looks like syrup. Strain and pour into a sterilized bottle and seal with a cork. A cork closure will stop the bottle exploding if the syrup ferments. This will keep unopened for 12 months and for 1 week if refrigerated once open. For children give 1 tsp, 3-6 times per day or for adults, 2-4 tsps, 3-6 times per day. Do not take if diabetic.
For a sore throat, make a tea with 6 fresh Sage leaves and 4 sprigs Thyme, and gargle with it hot or cold. Alternatively make some Sage Honey and take 1 tsp as required. To make the honey, wash and dry a large bunch of Sage and place in a small pan with enough honey to cover. Simmer gently for 60 minutes. Allow to cool then pour carefully into a sterilized bottle with a sprig of Sage (take care as this sugary solution will be very hot and will burn). This solution can also be used to sweeten hot lemon drinks when suffering with a cold or flu.
For colds and flu make up olive oil vinaigrette and add 1-2 cloves of fresh garlic and pour on fresh salad, including some raw parsley which will increase nutrients and boost immunity whilst neutralising garlic odour on breath! Our Anti-Virus, Bug Buster and Breathe Easy essential oils blends are also great for in a diffuser or for steam inhalations.
For tiredness and tension tie together a bunch of herbs including Lavender, Lemon Balm, Chamomile and Rosemary. Hang under hot water tap and run a bath. To add to the effect – add 1 cup of Dead Sea Salt or Himalayan Pink Salt. Then soak and relax!


Joannah Metcalfe
Consultant Aromatherapist