Aromatherapy blends for Summer skin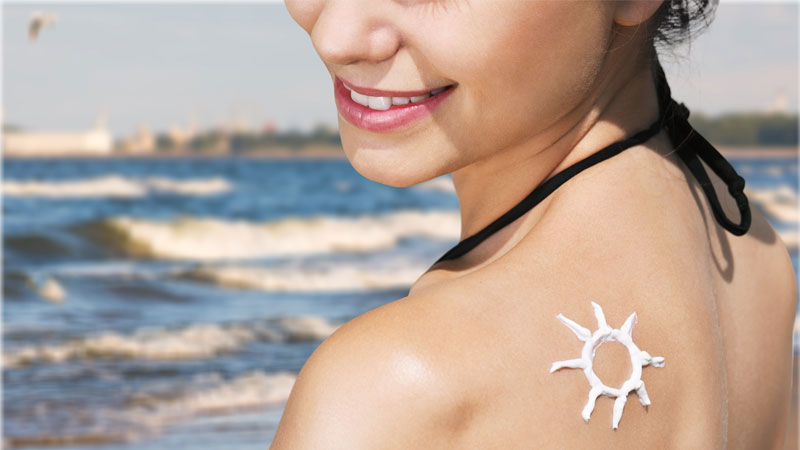 Here are some of our favourite products and aromatherapy blends to ensure your skin looks healthy and refreshed all summer long!

Moisturising Face Mask
To keep your complexion soft, smooth and glowing try applying this ultra-hydrating face mask 3-4 times a week: Mix together 1 tbsp Aloe Vera & Seaweed Gel, 1 tsp Argan Oil, 1 tsp Vitamin E Oil and 1 drop each of Rose and German Chamomile essential oil. Apply to the face and neck and leave to absorb for 10 mins. Rinse off any remaining gel with cold water.
Skin Quenching Toner
If your skin is particularly thirsty in the summer months try this hydrating toner recipe for an extra moisture boost!
Take 100ml Rose Hydrolat (or Orange Flower Hydrolat if you have oilier skin - remember oily skin can be de-hydrated too!!) add 10ml Aloe Vera and Seaweed Gel, 15ml Glycerine, 30ml Witch Hazel Hydrolat and then 6 drops Vitamin E Oil. Shake well and use as normal after cleansing.
Light Moisturising Lotion
Your skin's needs change with the seasons, so for summer you should be switching from heavier creams to lighter lotions or gels. For a really simple blend mix 1 tbsp of our fragrance free Moisturising Lotion with 4 drops of Rose or Geranium essential oil. If your skin is oily you can change the essential oils to Neroli or Ylang Ylang.
Hydrating Aloe Vera Gels
Our beautifully fragrant Aloe Vera & Rose Gel and our Neroli Gel with Guava Extract are also ideal for hydrating your skin during the summer months. Aloe Vera helps to soothe, smoothe and hydrate and Rose and Neroli are both renowned for their nourishing and skin rejuvenating properties.
Refreshing Skin Spritzes
Our hydrolats make wonderful cooling, soothing, hydrating sprays for the summer months. Lavender is particularly recommended for insect bites, sunburn and over-heated, itchy skin, and Rose is great to use throughout the day as a refreshing facial spritz and body spray.
For added therapeutic effect you can also mix your hydrolat with essential oils. Try 150ml of Rose Hydrolat, 8 drops Lavender essential oil, 2 drops each of German Chamomile, Spearmint and Peppermint and 1 drop of Eucalyptus. Keep in the fridge if possible, shake well and spray liberally on the skin to cool and revitalise - perfect for hot, sweaty feet too!
Skin Smoothing Body Scrub
Scrub off all those dull, dead dry skin cells and reveal softer, smoother, healthier looking skin. Mix together 1 tbsp Moisturising Lotion, 1 tbsp Aloe Vera and Seaweed Gel, 1 tbsp Jojoba, 1 tbsp of honey or Glycerine (or both if you like!) and 1 tsp Vitamin E Oil. Stir well and then add enough raw brown sugar (not Demerara) to make a gritty yoghurt-like paste. Apply to damp skin with circular motions, working in an upwards direction towards the heart. Rinse off with warm water and pat dry.
Anti-Cellulite Tips
Exfoliating and massage can help to reduce unsightly cellulite by boosting the circulation, breaking down fatty deposits, and draining excess fluids and toxins that contribute to the appearance of cellulite. In addition to the Body Scrub recipe above you could also try regular massage with our pre-blended Detox Massage Oil with Patchouli, Sweet Orange and Juniperberry. Use for a full body massage or simply massage vigorously into the effected areas with a circular and upwards motion.
Moisture Boosting Bath Oil
Treat yourself and your skin to a regular soak with this skin nurturing bath oil: 20ml Bath Oil, 8 drops Bergamot, 4 Geranium, 2 Ylang Ylang and 2 Neroli. Simply divine!!

Extra-rich Moisture Cream
If your skin is looking particularly dry apply this super-nourishing blend once a week after a bath or shower: 3 tbsps Moisturising Cream, 1 tsp each of Avocado Oil, Jojoba and Vitamin E Oil, 10 drops of Lavender, 5 drops Bergamot and 4 drops each of Benzoin, Patchouli and Ylang Ylang.
We hope that you find these suggestions useful, and please do feel free to share your own recipes too!!

Disclaimer & Safety Advice