Base oil of the month: Argan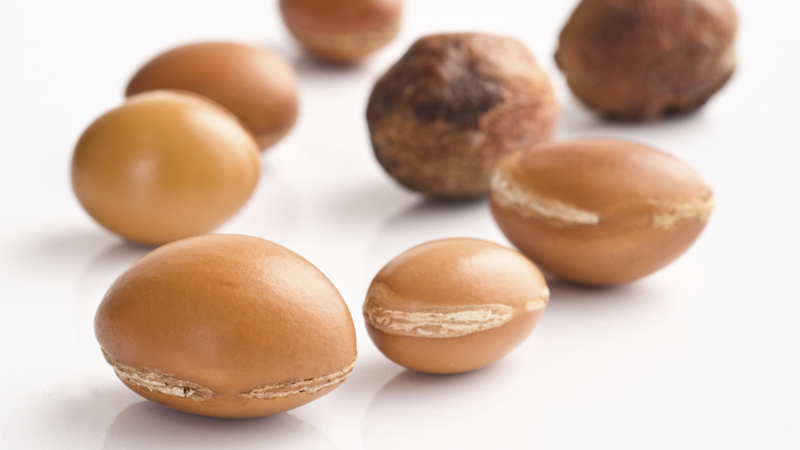 The Argan tree (Argania spinosa), also known as Morocco Ironwood, is thought to have originated in the Moroccan village of Argana. The ancient species, believed to one of the few survivors of the Tertiary Period spanning 65 million to 1.8 million years ago, once covered North Africa but now only grows in south-west Morocco in an area covering 700,000 to 800,000 hectares. Due to declining numbers and various ecological problems the tree has been placed under UNESCO protection. The Arganeraie Biosphere Reserve was established in 1998 to help conserve the ecosystem, protect the tree from human exploitation and to promote sustainable use of natural resources. The UNESCO biosphere designation has limited the supply of Argan oil, making it one of the rarest and most expensive oils in the world.

The Argan tree
The tree is a little similar in appearance to the olive tree. It can reach 7-10 metres in height and has a short, twisted trunk and branches that make it easy for local goats to climb and feed on the leaves and fruit. It has an amazingly strong and deeply penetrating root system that extends up to 35 metres deep. This not only helps protect against encroaching desertification and soil erosion, but also enables the tree to access enough water to survive its harsh, arid environment. The tree can consequently live between 150 and 400 years.
The Berber community of Morocco have harvested from this tree for hundreds of years and call it the "Tree of Life". They use the wood for building and for making furniture and ornaments. The wood and nut-shells are used for firewood and the leaves and fruit for animal feed. The oil from the Argan fruit is also used for cooking, medicinal purposes and for skin and hair care. It is considered a precious resource and Argan groves are handed down from generation to generation as a prized part of their family inheritance.
How is Argan oil produced
In the months of May or June the Argan tree produces green, yellow or white flowers which are followed by the Argan fruit which takes over a year to ripen. The fruit is oval in shape and is similar in size to a large olive. It has a thick outer peel, a sweet-smelling pulp and a hard nut in the centre which contains up to three oil-rich kernels. The tree typically bears fruit for the first time when it is between 30 and 50 years old, after which it produces 120-180 kg of fruit each year.
The Argan fruit is harvested in July and August and the oil is cold pressed from the inner kernels. It takes between 25 and 30 kg of fruit, which yields approximately 2 kg of kernels, to produce 1 litre of Argan oil. The production process is lengthy. Before pressing can occur, the kernels need to be removed from the hard, outer shell. Attempts have been made to mechanise this process, but due to the delicate nature of the kernels, it is mainly done by hand, with the Berber women, using nothing but rocks and their bare hands.
When the oil has been extracted from the kernels, a thick chocolate-coloured paste called 'amlou' is left behind. This is sweetened by the Berbers and eaten with bread at breakfast time – tasting a little bit like peanut butter.
Most Argan oil continues to be harvested and produced by fair-trade cooperatives, managed largely by women, providing a crucial source of income for Berber communities.
The benefits of Argan oil
So why is this oil, also known as 'Moroccan Gold', so precious?
Research has established that Argan oil contains almost twice the amount of Vitamin E as Olive oil and that it is rich in antioxidants. It contains 8 different essential fatty acids including linoleic acid, that cannot be produced by the body, and rare anti-inflammatory plant sterols, that aren't found in any other oil. The Berber women have used it throughout their lives to moisturise, nourish and protect their skin and hair from the harsh Moroccan climate, and it is thought to have a variety of nutritional benefits when used for culinary purposes (make sure you buy food-grade oil though if using for cooking).
Argan oil
has the following benefits when used topically on the skin and hair:
Argan oil is incredibly light, non-comedogenic (does not block pores) and is easily absorbed, to leave the skin feeling wonderfully moisturised, silky soft and smooth.
It can help combat sun damage, wrinkles and fine lines by boosting elasticity and stimulating skin cell renewal. It can also help to reduce the appearance of scars and stretch marks.
Argan oil nourishes, protects and moisturises dry, chapped, cracked, flaky and inflamed skin whilst protecting against infection. It can be particularly helpful for eczema and psoriasis and for soothing chapped lips. It can also be used with babies to help treat sore, dry patches and cradle cap.
It can help regulate sebum production in oily skin, helping to prevent spots and excess oiliness. It also soothes the inflammation of acne and helps prevent scarring.
It can help protect sensitive skins from allergens that may cause itchiness and inflammation.
Helps repair and moisturise dry and damaged hair, restoring healthy condition and shine. It can also stimulate hair growth and soothe itchy, dry, scalps and dandruff.
Also a great conditioner for the nails and cuticles. It can help to nourish and strengthen dry, brittle nails, soften the cuticles, promote healthy growth and restore natural shine.
Argan's anti-inflammatory properties can useful in massage blends to help to ease rheumatic joints, aching muscles and sports injuries, aches and pains.
Skin and haircare recipes using Argan oil
Argan Oil can be blended with other products but you may find that the absorption rate is reduced, which in turn will impact on the moisturising and healing effects. Remember a little goes a long way so you'll only need a few drops!
Lightly Moisturising Facial Toner
Add 2ml Argan Oil to 100ml Rose Hydrolat. Spray liberally onto face as a moisturising "all in one" toner.
Ultimate Luxury Facial Oil
Take 50ml Argan Oil and add 2 drops Jasmine, 2 Rose, 4 Neroli and 8 Geranium. Shake bottle well and apply to face and neck every evening. Allow to sink in and then apply moisturiser as normal if required.
Hair Conditioner For Dry Frizzy Hair
Massage a few drops of Argan Oil into the palms of your hands and smooth on to dry, frizzy hair. Alternatively - add 2 drops Jasmine, 6 Ylang Ylang, 4 Geranium and 4 Sandalwood to 20ml Argan Oil. Shake well and massage into hair and scalp. Leave the oil on for a few hours and then wash as normal. This will help to nourish, strengthen, repair and protect the hair and give a more shiny, healthy appearance.
Safety Advice
If you suffer from nut allergies it is advisable to consult your doctor before using this product. Although it isn't technically a tree nut, it is a stone fruit and the oil is derived from the kernel / nut. A small patch test should be performed to ensure there is no allergic reaction.
Joannah MetcalfeConsultant Aromatherapist