Christmas fragrancing with pure essential oils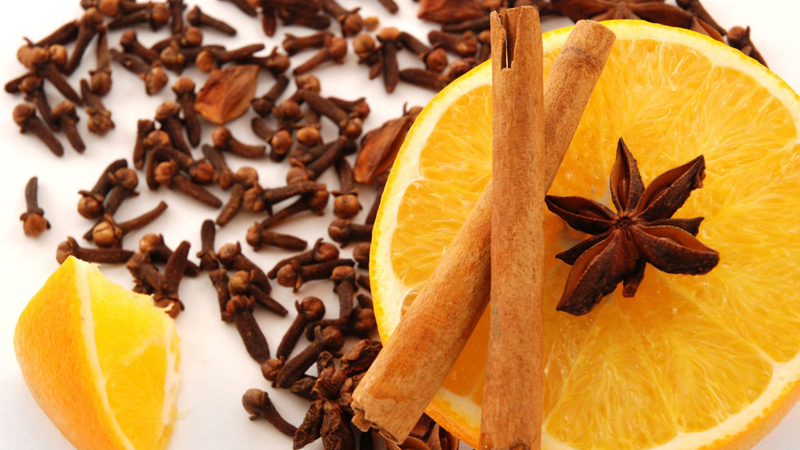 For many people, Christmas isn't the same without beautiful aromas of festive pot pourri, scented candles and room sprays. Many shops sell commercially prepared products containing fragrances such as Cinnamon, Mandarin, Orange, Frankincense and Myrrh, helping to invoke memories of bygone years. Some of these products may, however, contain synthetic fragrance rather than pure or true aromatherapy essential oils, which may result in headaches and nausea. To avoid such unpleasant symptoms and also save some money, why not make your own Christmas blends using pure, natural, therapeutic oils; it is relatively easy to do and a lot of fun. There are so many different combinations of oils that work well together, it is best just to experiment and find out what works for you. My blog includes a few ideas to get you started.
Popular Christmas essential oils include: Cinnamon, Clove, Mandarin, Sweet Orange, Tangerine, Pine, Frankincense and Myrrh. Frankincense and Myrrh are perfect to use during the festive period, being given to Jesus at his birth according to the gospel of Matthew (2:11), however, they should be used with care as Frankincense may make your home smell like a church, and Myrrh with its distinctive smoky, slightly musky aroma may dominate other less powerful oils. Citrus oils such as Mandarin, Orange and Tangerine have a fresh aroma and are perfect when used individually or within a blend. Warm aromas can be created by using spice essential oils such as Cinnamon and Clove.
If you are fortunate to have an open fire, putting one drop of Frankincense onto a log, will help create that Christmas atmosphere. Be careful though! Essential oils are flammable, so leave enough time for the wood to absorb the essential oil before placing it on the fire and be prepared for more sparks than usual!
While pine cones may be collected from walks in the countryside, they can be easily purchased, albeit without scent, and then infused them with their natural aroma by dropping a few drops of Pine essential oil onto them and placing in an airtight container overnight. The cones can then be decorated by tying red or gold ribbon around them and used to decorate Christmas tree.
Rather than purchase expensive aromatic candles, simply buy unscented, natural candles at a fraction of the price. Light the candle, wait until the wax begins to melt and then add one drop of an essential oil blend made with one drop of Frankincense and two drops of Mandarin. Alternatively, one drop of Clove, one drop of Frankincense and four drops of Sweet Orange can be blended together to create a beautiful Christmassy aroma with one drop of the blend being added to the melted wax.
Making clove-orange pomanders is one of my most favourite 'jobs' at Christmas. Roll cloves in a blend made up of two drops of Cinnamon essential oil and four drops of Tangerine. Stick the cloves, into oranges and place in a small basket. The aroma is delightful and it is very satisfying to know that you have made the clove oranges yourself.
Personalise your Christmas cards to friends and family by putting one drop of your favourite Christmas blend onto the card before sealing in the envelope so that upon opening the card, the recipient will be greeted with a charming aroma.
Two of my most favourite Christmas essential oil blends are shown below. I hope you enjoy creating your own this year!
Christmas Aromatherapy Candle
1 drop of Frankincense
1 drop of
Myrrh
4 drops of Mandarin
Add 1 drop of the blend to the melted wax as per the above instructions.
Christmas Aromatherapy Room Spritz
1 drop of Clove
1 drop of Cinnamon
4 drops of Sweet Orange
2 drops of
Tangerine
600ml of distilled water
Combine in a spray bottle and shake well before use. Do not spray onto furniture.
Finally, if you don't want to make up your own blends you can always try one of our exclusive Christmas Essential Oils which are available for a limited time only. There are 3 to choose from:-
Christmas Spice with Cinnamon, Clove and Sweet Orange
Festive Fruits with Pine Needle, Tangerine, Lemon and Grapefruit
Holy Nights with Frankincense, Myrrh and Lemon

Wishing you a very Merry Christmas!!!

Christine Fisk
Consultant Aromatherapist
Read other articles by Christine Fisk