Aromatherapy and cancer advice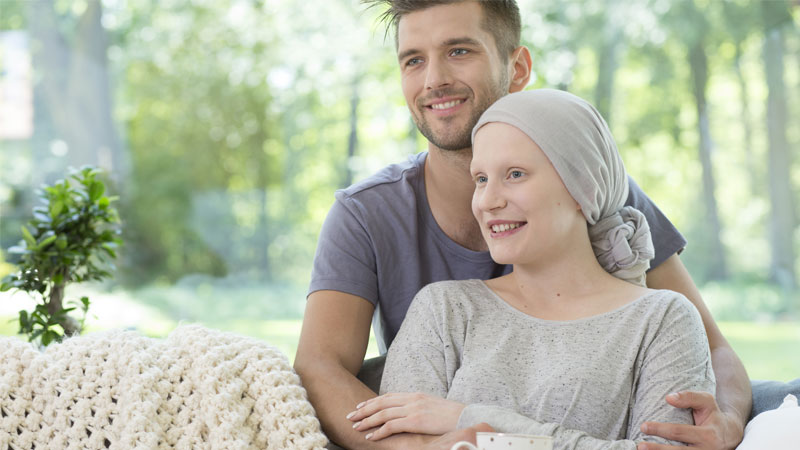 Although a number of essential oils have been studied for their anti-cancer potential, it is still a relatively new and emerging area of cancer research that needs to be further developed. What has been proven however is that essential oils can be helpful in reducing some of the symptoms, both physical and emotional, that are associated with cancer and its treatments.
Aromatherapy and cancer
Dealing with cancer can be confusing, lonely and frightening, not just for the diagnosed but also for their partners, family and friends. Many people turn to aromatherapy because it lifts their mood, helps them cope and because it is something they can do to help themselves in conjunction with their chosen treatment plan.
It is now acknowledged that essential oils can be helpful in reducing anxiety, depression, distress, fatigue, fear, pain, stress and tension and improving quality of sleep for cancer patients. For hospitals that offer patients complementary therapies as part of their treatment plan, aromatherapy is often one of the most popular choices. It is also increasingly being used within hospices and cancer support groups.
Using aromatherapy safely
Although essential oils are 100% natural, they are still extremely powerful and complex substances, so it is vital that the patient obtains consent from the person responsible for their primary treatment (i.e. doctor), before using aromatherapy. They should also consult with an aromatherapist that is trained to work with cancer patients, as it is a very specialist area.
There are conflicting views on whether essential oils should be used in conjunction with chemotherapy and radiotherapy. Many doctors and nurses recommend avoiding the use of essential oils during treatment. This is because certain oils have protective and antioxidant effects on our cells, and as well as protecting healthy cells they may also have a protective effect on the cancer cells, hence reducing the effectiveness of the treatment. The oils may also either speed up or inhibit the rate that chemotherapy drugs are metabolised by the body, which again can reduce the effectiveness of the treatment or cause unpleasant or even more serious side effects, as the drugs are very carefully dosed for each patient.
Others maintain there is no evidence that essential oils interfere with anti-cancer drugs and oils such as Peppermint and Spearmint have actually been found to be effective in combating chemotherapy-induced nausea and vomiting [1]. Trials in France have also shown that oils such as Cajeput. Lavender, Niaouli and Tea Tree can help to prevent radiation burns and scarring [2].
Again, this is an area that should be discussed with the patient's doctor.
Massage for cancer patients
Studies have shown that massage can be helpful in reducing pain, fatigue, nausea, anxiety and depression and improving sleep and quality of life for cancer patients. It may also help to reduce oedema in the limbs, improve range of movement and the health of scar tissue. Some people worry that massage can stimulate the lymphatic system and spread cancer cells via the lymph, but there is no scientific evidence to support this. In fact, a special type of massage called Manual Lymphatic Drainage is often used to treat lymphoedema (swelling that occurs when lymphatic fluid builds up in the body, often caused by cancer and its treatments).
It is generally accepted that gentle, light, relaxing massage can be safely given and can be wonderfully comforting and beneficial for patients at all stages of cancer. For those who are particularly ill or weak even a simple hand or foot massage can bring great comfort and relief.
As mentioned above it is important to see a massage therapist that is properly qualified and has experience of treating people with cancer. Vigorous deep tissue massage should be avoided. Macmillan UK [3] also advise that massage should be avoided as follows:
Directly over a tumour site or lymph nodes affected by cancer
On sensitive or bruised areas
On areas subject to radiotherapy, both during and for a few weeks after treatment
Around intravenous catheters and pain relief patches
On areas affected by poor circulation, blood clots or varicose veins
Extreme care should be taken if cancer has spread to the bones or if the patient has a low platelet count. In both cases the patient should obtain permission from their doctor before having massage treatment.
Essential oils for cancer support
There are many different oils that can help with a range of physical and emotional symptoms, and an experienced aromatherapist will help the patient choose the safest, most appropriate oils and dilution rates based on their particular circumstances. It is generally safe to use normal to low doses of oils, or half the normal dose where the cancer is advanced or the patient very weak.
We offer some general advice below on essential oils that may be useful for cancer patients along with ideas on how to use them.

For calming comfort
For a soothing massage blend try Frankincense, Geranium and Green Mandarin. Frankincense slows the breathing, counteracts panic attacks and induces a calm, meditative state. Geranium balances the emotions and adds a relaxing floral scent, whilst Green Mandarin adds a gentle uplifting edge to help counter the overwhelming fatigue that often accompanies illness. Mix up to 6 drops of essential oil into a tbsp of carrier oil.
Other useful oils for calming the emotions and relieving stress and anxiety are Benzoin, Bergamot, Clary Sage, Lavender, Sweet Marjoram, Neroli, Patchouli, Petitgrain, Rose, Ylang Ylang.
For a pre-blended option try our 100% pure Relaxing essential oil synergy with Frankincense, Cedarwood Atlas, Red Mandarin and Yarrow to calm and relax the mind and body, or our ready to use Relaxing Massage Oil or Relaxing Massage Wax with Sandalwood, Frankincense, French Lavender, Neroli, Petitgrain and Palmarosa.
To assist with pain relief
Lavender essential oil is a well-known pain killer and can be safely used alongside conventional drugs. You can use any of the following methods of application to introduce the essential oil into your blood stream:
Mix 4-10 drops of essential oil with 15ml of fragrance-free Bath Oil or SLS free Bath & Shower Gel and add to the bath water once it has finished running. Swirl around gently to aid dispersion in the water.
Add two drops to a tablespoon of carrier oil and massage into the affected area (remember it is usually advised never to massage over the site of the cancer or over an area receiving radiotherapy treatment).
Make a warm or cold compress by adding 4-5 drops of oil to a bowl of hot or icy cold water. Immerse a clean cloth in the water, wring out and place over the affected area. Use a hot compress to relieve aches, stiffness and tension and a cold compress where there is inflammation or swelling. Repeat and replace the compress when it is no longer hot or cold.
Other essential oils that can be useful for pain relief include Black Pepper, German Chamomile, Clary Sage, Peppermint. Plai, Rosemary and Sweet Marjoram. St John's Wort and Arnica infused carrier oils would also be useful for massage blends.
For a ready-to-use product try our Muscles Massage Oil or Muscles Massage Wax which have been expertly blended with Clary Sage, Sweet Marjoram, French Lavender and Rosemary.
To aid sleep
Lavender, Roman Chamomile and Neroli are three of the best oils for aiding a more restful night's sleep, and can be used in any of the following ways:
Having a warm bath is great for aiding relaxation. Use 4-10 drops of essential oil and mix with 15ml of a suitable bath base (as described above).
Diffuse a few drops of oil in an aromatherapy burner or diffuser an hour before bed.
When going to bed pop a couple of drops of Lavender onto a tissue and place inside your pillowcase and inhale the scent as you try to relax.
If you're feeling particularly stressed try massaging a few drops of Neroli Light into your neck and chest before going to bed (this oil is pre-diluted in Jojoba and can be applied direct to the skin).
Other useful oils include Benzoin, Cedarwood, Clary Sage, Sandalwood, Valerian and Vetivert.
You could also try our pre-blended Sweet Dreams essential oil with French Lavender, Roman Chamomile, Valerian Root, Cedarwood Atlas and Red Mandarin, or our Sweet Dreams Spritz with Lavender, Chamomile, Frankincense and Cedarwood.
Essential oils for chemotherapy support
Chemotherapy can make you feel extremely tired. If this is the case, and ONLY if your consultant approves, try stimulating essential oils such as Lemon or Lime to help combat feelings of fatigue. Other stimulating essential oils that are safe to use include Basil, Grapefruit, Eucalyptus, Peppermint and Rosemary.
Chemotherapy drugs can also cause nausea, but there is a psychosomatic element to how badly it affects an individual on any one day or at any time. This explains why some days are worse than others and why some individuals are less debilitated when they are distracted in some way.
To ease nausea we would recommend the following essential oils:
Peppermint works well for reducing nausea for some individuals; however, for some it has the opposite effect.
Citrus essential oils are also helpful for treating nausea. We recommend Lemon or Lime which have the added benefit of counteracting the overwhelming fatigue that can dominate treatment.
Bergamot Mint, Cardamon, Ginger or Spearmint can also be helpful for nausea.
Another useful oil is Roman Chamomile, which has a calming effect on the mind and body. It is ideal for those who feel that their sickness is aggravated by chronic worrying.
Other essential oils that can help ease the trauma of chemotherapy on the mind and body include Palmarosa and May Chang (Litsea cubeba).
Try using any of these in a candle burner, diffuser or in a personal aromatherapy inhaler.
Important safety note
General advice is that oestrongenic essential oils should not be used for anybody with breast cancer or other oestrogen-related cancers. Various writers suggest that the following oils should be avoided with breast cancer: Aniseed, Citronella, Eucalyptus, Fennel, Lemongrass, Star anise, and Verbena.
We hope you have found this information useful. Please feel free to contact us if you would like any further help or advice.
Base Formula
References
Z. Tayarani-Najaran, E. Talasaz-Firoozi, R. Nasiri, N. Jalali, and M. K. Hassanzadeh, "Antiemetic activity of volatile oil from Mentha spicata and Mentha piperita in chemotherapy-induced nausea and vomiting," ecancermedicalscience, vol. 7, no. 1, article 290, 2013. View at https://ecancer.org/journal/7/290.php
Price S & Price L; Aromatherapy for Health Professionals; Churchill Livingstone 1995.