Essential oils for Summer skin & hair care challenges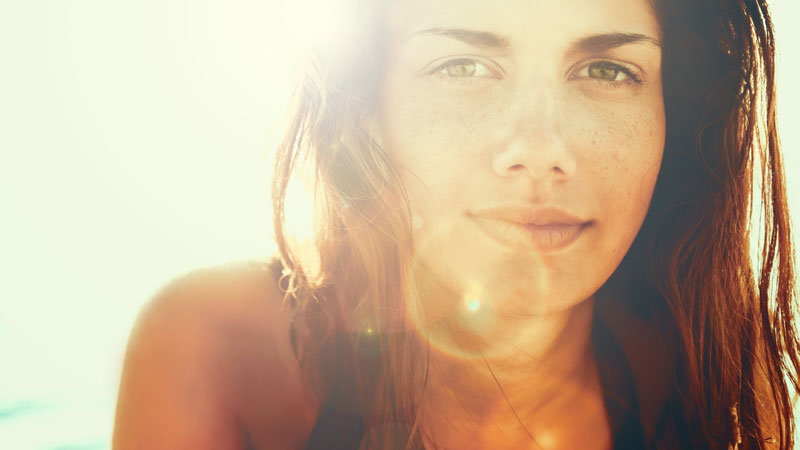 Although we look forward to Summer the season's hot weather can unfortunately throw up may obstacles to keep us from looking our best! It can feel like a real struggle at times to keep our skin and hair balanced when faced with challenges such as heat, humidity, air conditioning, sea, sand and chlorine – and, of course, there is also that fine balance of ensuring we get enough sunshine for our daily dose of Vitamin D, without over-doing it, and damaging our skin.

Much of our skin and hair care is an inside-out job, with what we put into our body being as important as what is happening on the outside, but the summer does add extra issues to consider! Whilst all the usual general advice is highly recommended – e.g. maintaining a healthy diet, keeping hydrated with the recommended intake of water, topping up with skin-feeding supplements, and even considering calming your internal emotional state (beauty isn't just 'skin deep,' after all!) - there are also some external things you can do to combat common seasonal problems and improve your skin and hair.
Read on for our top natural tips for maintaining beautiful, healthy skin and hair this Summer!
Top 5 Summer skincare challenges
Sweating & oily skin
One of the most common challenges that we face is becoming overheated which causes sweating (yes, even in the UK, we do get some sweaty days!). Our skin has to compensate for this, with our glands producing sweat as part of a feedback mechanism when we get too hot. This can cause issues such as acne and fungal infections if it becomes a problem, either on the body, or the face. In addition to this, the hot and humid weather can cause our skin to produce more oil, lead to blocked pores and blemishes.
To balance the skin, it is important to cleanse, but not strip the skin. For the face, try gentle yet thorough cleansing with our Aloe Vera and Chamomile-infused Micellar Water, and for the body, shower regularly – adding some cleansing Tea Tree essential oil into your shower gel if you can!
Don't over-strip your skin by just cleansing though – if you do, your body will think it needs to produce more sebum! Add 1 drop of skin balancing Palmarosa essential oil into 5ml of Moisturising Lotion to nourish and rehydrate!
If oily skin and blemishes are a problem try products from our Recovery+ Range which are specifically blended to purify and balance problem skin.
If you suffer with excessive perspiration but don't like to overload on chemical-laden roll-ons or sprays try making your own 100% natural deodorant. Mix 2 tablespoons of Baking Soda, 2 tablespoons of Arrowroot, 3-4 tablespoons of melted Extra Virgin Coconut Butter, 3 drops of Palmarosa, 2 drops Clary Sage and 2 drops Geranium. Mix well, pour into a clean jar and keep in the fridge.
Sun over-exposure & pigmentation
I offer much caution about being out in the sun for too long, due to the health risks – but it is also important to get your recommended levels of Vitamin D for healthy bones, teeth and muscles! See NHS advice on how to get your Vitamin D from sunlight. Other than that, here are some handy hints about essential oils for after sun skincare.
My first bit of advice for this challenge is to always use sunscreen as "prevention is better than cure." There are so many natural options out there - as well as recipes to make your own, but I would advise to thoroughly research this and decide what works for you!
Avoid applying photosensitive essential oils to your skin in the sun – particularly citrus oils such as Lemon and Bergamot - as they can cause skin eruptions and pigmentation problems!
If you have been over-exposed to the sun, try this Aloe Vera sun recovery blend: mix 15ml Aloe Vera Gel with 4 drops Lavender and 2 drops German Chamomile, pop it in the fridge to cool, and apply to the affected area. Remember to moisturise the skin too as it recovers - mix 3 drops Rose, 2 drops Lavender and 1 drop Frankincense into 15ml of Calendula infused oil and massage gently into the skin.
Heat rash
Sun over-exposure, overheating and sweating can cause prickly heat rash, which can be really uncomfortable and irritating! Try the following:-
Make a soothing aromatherapy skin spritz with 100ml Chamomile Hydrolat, 15 drops Lavender, 10 drops Chamomile and 5 drops Spearmint – keep it in the fridge and spritz onto the skin as required.
To keep the skin dry, try making a natural skin powder to absorb moisture. Mix 3 tablespoons of Kaolin Clay with 3 tablespoons of Arrowroot and add 3 drops each of Lavender and Chamomile essential oil. Mix well and put into a shaker bottle to use on affected areas!
Dehydrated, dry skin
With environmental factors including air-conditioning and too much sun and chlorine, skin can also get dehydrated! There is obvious advice, like always shower after being in the pool, limit your exposure to air conditioning, reduce sun exposure by finding shade, use sun-tan lotion etc – but there are also some natural aromatherapy oils that can help rectify this if it becomes a problem.
There's only one thing to do when your skin is dehydrated and dry – and that's re-hydrate it! For the body, make up a hydrating body oil with 10ml Jojoba, 5ml Avocado oil, 3 drops Rose, 2 drops Patchouli and 1 drop Geranium and massage it liberally into your skin! For the face, add 1 drop Frankincense to 5ml Apricot Kernel oil and use a few drops as part of your daily routine.
Insect bites
Oh, the bane of summer, hey! Those darn insects can be a pest – especially if they bite us just as we are about to don a nice dress! Well, don't fear - we have a solution!
Make your own bug spray! Add 15 drops Manuka essential oil, 10 drops Citronella and 5 drops Spearmint to 100ml of Lavender Hydrolat and spritz onto skin as required.
If you've already been bitten, try adding 1 drop of Peppermint essential oil to 10ml of Aloe Vera Gel and apply to the affected area with a cotton pad.
Top 5 Summer hair care challenges
Along with skin, our hair can also suffer in the hot weather, with challenges varying from dry, split ends, to a greasy scalp, frizziness, and issues with volume and colour!
Dry, split ends
Sunshine and chlorine create dried out hair – particularly split ends – so it's highly likely you'll need to revive your locks at some point during the summer season. A top tip is to wet your hair before going in the pool, and to use a hair mask afterwards!
Create a hair repair mask with aromatherapy oils that may offer some UV protection – blend 5ml of Raspberry Seed carrier oil with 10ml Macadamia Nut oil, 2 drops Manuka essential oil, 2 drops Lavender and 2 drops Ylang Ylang. Massage into hair, particularly focusing on split ends, leave for 10 minutes and then wash off – remember to add your shampoo to dry hair before adding water.
Greasy scalp
There is also the opposite problem for the scalp, which can become greasy due to excess sweating. This one is easily resolved with a very quick and simple essential oil tip!
Add 1 drop of Cedarwood essential oil to 5ml of your regular shampoo or our fragrance free shampoo and use this as part of your regular routine!
The hair mask from above is still good to use here too as

Ylang Ylang

has sebum / oil balancing properties!
Frizziness and volume
Big hair? Don't care – with essential oils! Over-exposure to sun and humidity can also cause frizz and too much volume! Here's our top tips for taming hair!
Create a hair serum to tame your frizzy locks! Pour a blend of Jojoba and

Argan oil

into a 30ml dropper bottle with pipette, and add 5 drops Geranium, 3 drops Chamomile and 2 drops Lavender! Apply a tiny bit to your hands and smooth into the ends of your hair as needed.
Limp hair
Has your hair gone limp in the heat? Everyone suffers different effects from the sun – we are individual, remember! Try this blend to help stimulate growth and volume:
After shampooing, try a hydrolat hair mask before conditioning – add 2 drops of Rosemary essential oil per 10ml Witch Hazel Hydrolat and pour through the hair, massaging through to the ends. Leave on for 5 minutes, before rinsing and conditioning. Try this once a week!
Colour issues
If you colour your hair, you might notice that the sun is playing havoc with that too – or you might have experienced that green tinge from the chlorine in the swimming pool. Whilst essential oils won't stop your hair colour fading, natural hair care can help keep your hair and scalp healthier, which might help maintain it longer!
To prevent fading and that green tinge, apply a coconut oil hair mask before you go swimming – just massage some melted Extra Virgin Coconut Butter throughout the hair to act as a barrier to the chlorine! Shampoo and condition as normal, immediately after your swim.
If your hair colour is fading, give it some natural TLC by adding 1 drop of Ylang Ylang, Lavender or Geranium into 5ml of your shampoo and/or conditioner.
You could also make a hydration serum as above with 30ml

Fractionated Coconut oil

, 5 drops Lavender, 3 drops

Ylang Ylang

and 2 drops Cedarwood. Apply to the hair as needed. Oh – and don't forget to wear a hat in the sun to stop the chances of fading!
Whatever happens, aromatherapy essential oils and carrier oils have got it covered! See what you make of our tips, get creative with your own and, most of all, enjoy blending - and delight in the summer sunshine!
Stay beautiful!


Nicole Barton
Consultant Aromatherapist