Aromatherapy tips for a romantic Valentine's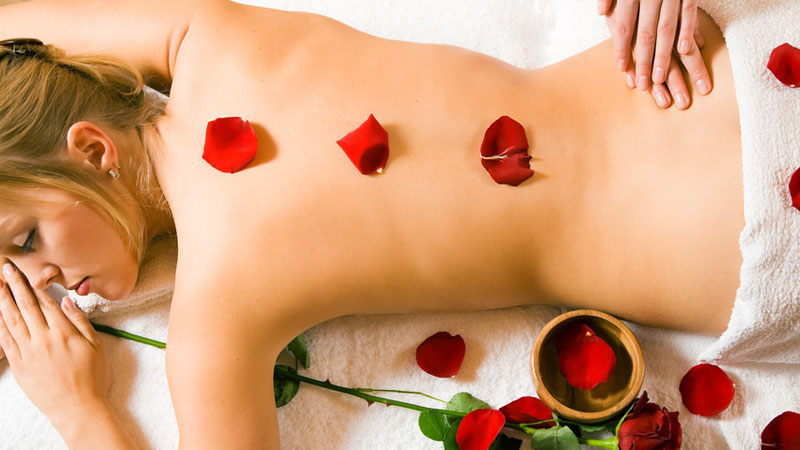 We live in a very busy world with most of us struggling to fit everything in, from work to childcare, hobbies and keeping in touch with friends. We are constantly bombarded with the pressures of 'doing things' and it seems there is never enough time to fit it all in. It's no wonder that we often forget to look after our most precious relationships!
For a successful, long-term, happy relationship it is important to set some time aside for romance. This valuable time is important, helping us to re-connect with our partner and enjoy quality time together. It would be ideal to set a regular time for this, even if it's just on a monthly basis. Go away for the weekend, enjoy a dinner for two, or a romantic bath or massage. It's good to remind ourselves about the other person and why we love them so much, to 'really' connect and make the relationship stronger.
Here are some great ideas on how you can use aromatherapy to create some truly romantic moments for you and your partner this Valentine's.


Create a fragrant romantic atmosphere
Sense of smell is so important yet often overlooked. A scent can alter our mood, bring back memories or trigger certain emotions. You can change the ambiance of a space just by creating a scent that compliments your needs. With a scent you can send messages to the subconscious mind, preparing your partner for the romantic evening ahead.
Aromatherapy can help in many ways to create that romantic atmosphere for those special moments together. The easiest way you can do this is by using essential oils in an aromatherapy burner or diffuser, or by lighting some scented candles. Candles work especially well if you are preparing a romantic dinner as they will help to create a soft light in the room. Choose natural candles with pure essential oils where possible for the best therapeutic effects. The scent does not have to be strong - a gentle, soft scent often works the best. Try individual flower oils such as Rose, Jasmine or Ylang Ylang, or make up your own essential oil blend.


Treat yourself to an aromatherapy massage
One of the best ways to connect with your partner is via massage. You can massage each other, which would be the ideal way to enjoy it, or you could book a mobile massage therapist to come to your home. Touch, combined with beautiful aromatherapy oils, is one of the most powerful ways to bring your attention back to your body and to the present moment. Massage has many benefits, it is calming to the body and mind and slows down our breathing. When the mind calms down the senses get stronger and you will feel and smell things better, as you are more in the present moment. Choose a ready-made massage oil such as Base Formula's Sensuality Massage Oil or create a gentle blend with your choice of carrier oils and essential oils. The flower oils work particularly well, and the resinous, woody oils are grounding and calming.


Share an aromatic bath
Taking a bath together can be a lovely therapeutic experience for both you and your partner. Water as an element is calming and comforting and by incorporating beautifully scented aromatherapy oils you can create a perfect moment for romance. You can blend your essential oils into our bath oil or shower gel base and you can also add natural salts or dry flower petals for that extra special touch. Make sure the water temperature is perfect for both of you, and add your blend whilst filling the bath tub, to ensure that it is completely mixed in. Play some soft music and light a few candles if you have the space. All these elements work together, to create a wonderful sense of romance. Make sure you're not disturbed so you can enjoy each other's company without rushing.


Try couples meditation
Depending on your preference and how you relax the best, you could try a couples meditation practice. This can work extremely well if it suits both of your personalities. If you're the type of a person who finds it difficult to relax, a massage is probably a better option. It is still sometimes fun to try new things though and meditation can have some powerful effects. Diffuse mind-calming essential oils to support this exercise. Try guided meditation or use a timer. If you're an experienced meditator you may have your favourite techniques, but sometimes just sitting still with your backs against each other can work wonders. Another option is to use a candle and sit facing each other. Place the candle in between the two of you and gently gaze into the flame. Try using the meditation practice before dinner, to help you relax and unwind so that you can listen and respond fully to each other during the meal.


Bring a touch of romance into your daily life
Add a sense of romance to your everyday life by using an aromatherapy scent in your underwear drawer. Place some dried flowers in a muslin bag for a soft, subtle scent, or use a ceramic diffuser disc with your favourite essential oils. The scent will infuse your underwear without damaging it. You can also use a pillow mist or essential oil diffuser in your bedroom. Perhaps use the same scents you used on your romantic evening, to remind you and your partner of that special time.


Aromatherapy blends for Valentine's romance
Here are a few sensual aromatherapy blends that you might like to try. I've called them 'His and Her' blends simply to convey whether they have a slightly more masculine or feminine appeal. Don't worry too much about that though, particularly if you're sharing a bath together - be guided by your sense of smell and choose the blend that appeals to you both!
His massage oil

25ml base oil
4 drops Sandalwood
4 drops Frankincense
2 drops Jasmine
Her massage oil

25ml base oil
2 drops Rose Absolute
1 drop Jasmine
3 drops Ylang Ylang
His bath oil

25ml bath oil
2g lavender flowers
3 drops Black Pepper
3 drops Lavender
1 drop Rose Absolute
Her bath oil

25ml bath oil
2g rose petals
2 drops Rose Absolute
2 drops Cardamon
3 drops Rosewood

I hope that you and your partner enjoy a beautiful Valentine's evening together!

Anu Järvinen
Aromatherapist & Guest Blogger
Anuuk Aromatic

About our guest blogger Anu
Anu was born in Finland and grew up with nature very much in her life. She has always been interested in natural remedies and ancient healing methods (in Finland especially, tree oils, resin and tar are widely used). After having various jobs, she has finally found her calling in aromatherapy. Her massage/ facial clinic in Marylebone, London has been going since 2011 and she launched her own product range in 2017 offering scented candles and essential oil blends. She is really passionate about natural skincare and aromatherapy, and uses a wealth of natural ingredients in her treatments, including flower waters, clays, essential oils and carrier oils. If you would like to know more about her clinic and treatments please click on the Anuuk Aromatic link above.