Get creative with Himalayan Pink Salt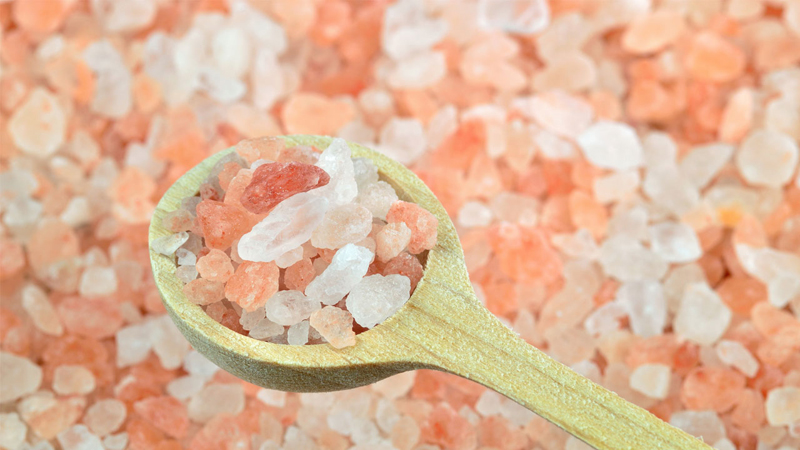 I recently ordered some of Base Formula's beautiful Himalayan Pink Salt to have a play with – and how glad I am that I did! These pretty pink salts are so versatile! They are balancing, energising and detoxing for the body whilst also being great for use with essential oils – whether aiding absorption into our bodies via an aromatherapy bath, or just for supporting the diffusion of scents into a room. With winter fast approaching, I had it in mind, whilst I was creating my blends, to think about how these salts can support our health at this time of year - so read on for some creative, natural healing ideas to prepare you for the 'cold' season ahead!
Healing Properties of Himalayan Pink Salt
Mined from the Himalayan Mountains, these pink salts are considered to be one of the purest salts available. From ancient sea-beds that existed over 250 million years ago, these salts have been protected from pollution by layers of lava, snow and ice, and are said to contain lots of natural minerals and trace elements. Having read all about this, I wanted to try them for myself and explore their healing properties! My research found them to be most commonly useful for:
Balancing electrolytes and regulating hydration and pH
Increasing circulation
Regulating blood pressure
Eliminating toxins
They are also said to support digestion, balancing stomach acid and absorbing nutrients, as well as aiding bones and muscles with their anti-inflammatory properties. So overall, they are useful for balancing, detoxing and warming – which is great for the start of our cold weather! Not only this, but their 'pink' colour comes from having a high mineral content so, as well as being very therapeutic, this also makes these salts very pretty, and ideal for gift-making (perfect for the time of year when our thoughts might be drifting towards natural, homemade Christmas gifts - just don't make them until a little nearer the time!).
Bearing all of this in mind, you can start to understand why these Himalayan Salts are so beneficial! As you can use them in so many different ways, I thought I'd share some of my ideas for you to try out at home!

Bath Salts
Making bath salts is a great way to combine the natural, therapeutic benefits of Himalayan Pink Salt with the natural healing effects of aromatherapy. Once prepared, and added to warm water, the salts will dissolve and help disperse the essential oils they have been covered in.
For a gentle, detoxing bath salt, try mixing 1 cup of Himalayan Pink Salt sprinkled with 20 drops of your choice of essential oils. For a good detox try Juniperberry essential oil, Fennel and/or Lemon, or for a relaxing bath, try Rose, Ylang Ylang and/or Lavender. Use 1/3 to 1/2 cup of salt per bath.
For a more invigorating Sole bath, which is an option for those wanting a really powerful detox, see Base Formula's instructions on how to make Sole.
It can be as simple as just mixing essential oils with the salts and adding this healing, mineral infusion to a warm bath (run your bath with it in and leave it for 30 minutes to infuse before getting in) – or you can also get a creative! Adding herbs is a nice way to create even further therapeutic benefit: herbs can have healing effects and some of them are also very attractive. If you buy some small organza bags, you can fill them with a mixture of Himalayan Salts, herbs and essential oils, and just drop this into your bath to infuse. Try herbs like Fennel and Rosemary for a more stimulating detox, or Chamomile and Calendula for something a bit more soothing. Packaged nicely, these can also make very pretty and personalised gifts!
Whilst these bath salt blends are easy for anyone to make at home, they can also be a great piece of 'aftercare' to give to your clients if you are an Aromatherapist. Why not mix blends for clients to take home after an aromatherapy treatment - or even give them the recipe so they can continue to enjoy the benefits of aromatherapy at home? As a therapist, these organza bags are a great idea to have readily prepared to add bespoke-blended essential oils to - you could even use these for foot soaks during your consultation for those colder, winter-season therapies – or, if you are a beauty therapist, you could use these in a foot soak to prepare feet for a pedicure. If you aren't aromatherapy trained you could always try mixing them with some pre-blended massage oils, such as Base Formula's Relaxing or Detox Massage Oil. These would also be good with the body scrub blend I tried next!
Body Scrubs
Nice and exfoliating, as well as moisturising, a body scrub blend is a great way to make use of Himalayan Salt's therapeutic properties for dry winter skin. You might want a finer grit for body scrubs as the salt could be too harsh on your skin but, don't worry, you can crush up the courser grains! Try mixing 1 cup of crushed Himalayan Pink Salt with around one third of a cup of a carrier oil (e.g. Sweet Almond, Grapeseed, Avocado or Coconut oil) and then add 20 drops of your favourite essential oils (and again, crushed herbs or rose petals would be nice addition here too!). Try using 8 drops of Peppermint essential oil and 12 drops of Lemon for an invigorating detox scrub, or Geranium or Bergamot (oily skin) or Rose (dry skin) for a more relaxing, balancing blend. Store any leftover scrub in an airtight glass jar and use up ASAP.
Do beware when making these salt scrubs that mixing the salt with certain liquid carriers (like Aloe Vera Gels) can make the salt melt so this is no good for giving to clients to take home!
Smelling Salts
If you are just after a visual way of diffusing essential oil scents into a room, Himalayan Salts are useful as a natural alternative to potpourri (which is often scented with artificial fragrance and has no therapeutic benefit). Whilst you won't get the healing benefits of the Pink Salts themselves, they offer a great way to get essential oils into the air and, therefore, into your body through your olfactory system (sense of smell), whilst naturally fragrancing the room at the same time. The salts are visually appealing – especially the chunkier coarse grain variety – and also retain their fragrance longer than potpourri and can have the essential oils re-applied.
Try adding 4 tablespoons of Himalayan Pink Salt to a small glass bowl and drizzle 20 drops of your chosen essential oils over the salts to absorb. For this time of year, when the weather suddenly plummets, it can be useful to try this with anti-viral essential oils that can help prevent colds. Try a blend of Eucalyptus and Ravensara essential oil in your living room. At night, and to help with sleep, try a bowl of Lavender and Sweet Orange salts in your bedroom – or Mandarin essential oil for children (making sure to place this out of reach on a high shelf). Re-apply your essential oils as the fragrance fades. Other nice oils to try, as we get closer to winter, are Cinnamon (warming, invigorating and anti-viral), Sweet Marjoram (warming, relaxing and soothing) and Nutmeg (calming, uplifting and warming).
All the above methods highlight some gorgeous and beneficial ways to make use of these naturally therapeutic Himalayan Salts – and it's amazing to know that you can create all of these blends with just one base product! If you fancy some therapeutic natural healing, and like the ideas above, I'd recommend you invest in these wonderful Pink Salts - especially for the winter season, which is fast approaching!
Nicole Barton
Consultant Aromatherapist
Read other articles by Nicole Barton