Enjoy an aromatherapy spa experience at home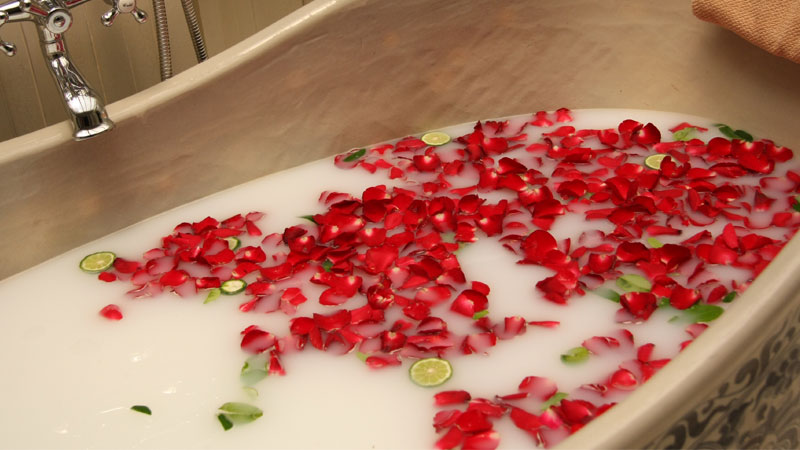 There is nothing nicer than enjoying a pampering spa day (or evening) at home using beautiful aromatherapy skincare products bursting with delightful, aromatic essential oils. Taking time to plan your home spa 'pamper' experience is part of the fun, deciding, for example, on whether you want to feel relaxed and chilled, or energised and revitalised. Do you want to spend the time with friends or enjoy some 'me-time'? What sort of products will you choose? Will they be hand-made or from one of your favourite aromatherapy brands?

Spa journeys are generally intended to balance mind, body and soul, so it's a good idea to give yourself the gift of gentle exercise, clean eating and, of course, a personalised spa treatment. The night before your spa day make sure you have your favourite and fluffiest robe, cosy slippers and favourite chill-out music to hand as well as your aromatherapy products to pamper your skin. Create your spa menu around 'clean' food that will help support your digestive system and provide 'good' calories for your body. There is lots of useful information about clean eating online that will help you to plan your meals for your spa experience. Decide on whether you are going to use an exercise DVD, perhaps pilates, or take a gentle stroll outside, taking into account your fitness level. If taking a gentle stroll, enjoy being in the moment and practice mindfulness. If you have decided on a 'relaxing' spa experience, give yourself permission to completely chill – for some that might mean having a relaxing bath, reading or meditating. Whatever chilling means to you remember to be kind to yourself and do whatever it takes to make your day extra special.

Ideas for your personalised aromatherapy spa treatments



Washing your hair and then applying a deep conditioning hair mask or hair treatment is, I believe, a good way to start your treatment regime (see below). Massage the mask into your hair and scalp, wrap a fluffy towel around your head and commence your facial.


Firstly, cleanse and tone your face (see below). Then add a few drops of essential oil into a bowl of steaming hot water, I like to use 1 drop of Frankincense and 2 drops of Sweet Orange. Leave over the bowl and place a towel over your head and breathe in deeply through your nose. Steam your face for up to five minutes to open your pores. The aroma of the essential oils will also have a soothing, uplifting effect on your mood.


Next, gently exfoliate your skin in preparation for your face mask (see below).


Apply your facial mask (see below) and relax for 10 minutes.


Remove the face mask with warm water, and apply a moisturiser.


It's now time to step into a lovely, warm bath. Make sure your aromatic candles have been lit, soothing music is playing in the background, and you have poured your favourite aromatherapy essential oils into the bath. A personal favourite bath oil of mine is 2 drops of Rose otto essential oil, 5 drops of Lavender and 3 drops of Bergamot in 10ml of Rosehip Seed oil. Soak for a little while then treat yourself to a manicure and pedicure treatment when you get out.


After your pedicure, apply an aromatherapy foot cream (see below), then wrap both feet in cling film and a warm towel, and sit back and relax again for about 10 minutes.


Finally, finish your spa treatment by applying a light aromatherapy massage oil to your body - then simply relax!


Ideas for homemade aromatherapy spa products:
Deep Conditioning Hair Mask
Warm 20ml of
Extra Virgin Coconut Butter
and add 4 drops each of
Geranium
and
Ylang Ylang
essential oil and 2 drops
Lemon
. Massage into the hair and scalp and leave for as long as possible before shampooing out.
Gentle Facial Exfoliator
To make a simple exfoliator take 10ml of
Cleansing Lotion
 and mix with ground rice (from the supermarket) until you have the desired consistency. You can also add the following essential oils according to your skin type:-
Massage the exfoliator into the skin with a gentle circular motion then rinse off with luke-warm water.
Cleanser & Moisturiser
Use our fragrance free 
Cleansing Lotion
 and
Moisturising Lotion
 bases and add the following essential oils to 10ml of each base product:
100% Natural Skin-Kind Toners
Deep Cleansing Clay Face Mask
For dry or sensitive skin use our
Kaolin Clay
or
French Green Clay
for oily skin. The clay can be blended to a thick, yoghurt-like paste with your chosen hydrolat or one of our
Aloe Vera Gels
. You can also add the essential oils listed above according to your skin type.
Revitalising Foot Balm
Blend 30ml of 
Moisturising Lotion
 with 5 drops of 
Lavender
, 3
Tea Tree
, 2 
Lemon
, 2 
Lime
 and 1 
Peppermint
.
Aromatherapy Massage Oil
Blend 20ml of
Peach Kernel oil
 with 5 drops of
Lime
essential oil and 3 drops of
Ginger
. Alternatively try one of our
pre-blended massage oils
 that are ready to use.
NOTE:
If you have oily or blemish prone skin you may like to try products from our
Recovery Range
for your home spa facial. Especially developed for problem skin this comprehensive range includes a
Clay Cleanser
,
Facial Exfoliator
,
Facial Spritz
(Toner),
Purifying Mask
and
Blemish Balm
.
Enjoy!
Christine FiskConsultant Aromatherapist
Disclaimer & Safety Advice