Essential oil of the month - Hyssop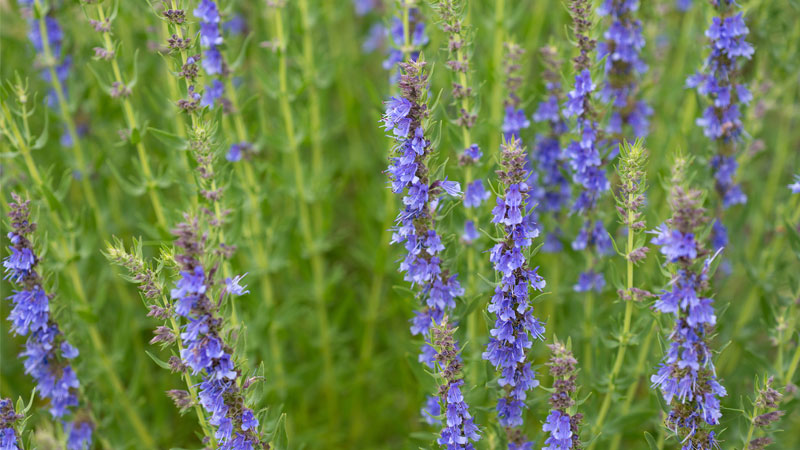 Hyssop (Hyssopus officinalis) is a member of the Lamiaceae plant family and native to the Mediterranean region. It is an evergreen herb that grows up to 0.5 metres in height with tall spikes of white, pink, blue or mauve coloured flowers.
History of Hyssop
Hyssop was known as a 'holy' herb in ancient times and is referred to several times in the Old Testament where it symbolised purity and was used for the cleansing of people, homes, temples and other sacred places.
"Purge me with hyssop and I shall be clean; wash me, and I shall be whiter than snow." - Psalm 51.
Priests in ancient Egypt used Hyssop to purify their food and it was used as a strewing herb in the Middle Ages to mask unpleasant odours and to deter insects, mice and other undesirables. It was even believed to protect against the plague.
The herb has also been used as a traditional remedy for coughs, sore throats and bruising.
Modern uses of Hyssop
Today Hyssop is used in perfumery, cooking and as an ingredient in liquors such as Benedictine, Chartreuse and some blends of absinthe.
Hyssop Essential Oil
Hyssop essential oil is steam-distilled from the flowering tops of the herb and has a fruity, fresh, earthy, woody, slightly sweet and camphorous aroma. It has several useful therapeutic applications but needs to be used with care due to its high cetone levels that make it borderline in terms of toxicity (1). See safety notes below.
According to Valerie Ann Worwood (2), the oil is useful for respiratory problems including coughs, colds, flu, bronchitis, catarrh, asthma and bronchial infections, as well as contusions, bruising, wounds, arthritis, rheumatism, muscular aches and pains, and digestive problems. It is also thought to be a strong anti-viral and helpful for menstrual problems, work-related fatigue, anxiety and stress.
Supporting the respiratory system
Hyssop's antispasmodic and expectorant properties make it a useful oil for the respiratory ailments. It can be helpful for soothing persistent coughing and reducing mucous and congestion.
To support clearer breathing add 4 drops Hyssop and 4 drops Eucalyptus to a bowl of boiling hot water, cover your head with a towel, close your eyes, lean over the bowl and inhale the scent for up to 10 minutes at a time.
Supporting the immune system
As an anti-viral, Hyssop can be used to stimulate the immune system and protecting against infection.
To help boost immunity and fight off coughs, cold and flu try 3 drops Hyssop, 3 drops Lemon and 2 drops Sweet Orange.
Healing & preventing infection
Hyssop's antiseptic, antibacterial properties can be helpful for healing and preventing infection in wounds and cuts, and its anti-inflammatory, anti-spasmodic properties can be useful for muscular aches and pains, arthritis, rheumatism and bruising.
To promote healing of bruises, closed wounds and to soothe muscular pain mix 3 drops Hyssop, 2 drops Sweet Marjoram and 1 drop Black Pepper with 15ml of Grapeseed oil and massage in to the affected area in a direction towards the heart.
Strengthening the nervous system
Another benefit of Hyssop is its ability to strengthen the nervous system. If you're feeling stressed or anxious, this nerve-soothing oil will be a great one to use in your aromatherapy blends. Why not try this beautiful bath blend and treat yourself to a relaxing self-care routine?
Add a blissful blend of 3 drops Hyssop, 3 drops Geranium and 2 drops Clary Sage into 15ml of Bath Oil (or half a cup of full fat milk). Close all doors and windows and pour into the running bath water. Then lie back, relax and drift off to a more comforting space.
Stimulating & clearing the mind
Hyssop is thought to have cephalic properties so it can be a useful oil for stimulating your senses and aiding clarity of thought, particularly when feeling overworked, stressed and fatigued. The best time of day to use it is in the morning, to boost energy levels and focus your mind.
Try diffusing 4 drops Hyssop, 3 drops Melissa and 1 drop Geranium for short bursts at the start of your day!
Aiding digestion
Another key benefit of Hyssop for the physical body is its ability to stimulate the digestive system. It can help to increase the production of gastric juices to aid digestion and soothe digestive ailments such as constipation, indigestion, flatulence and 'griping' pains.
For a digestive-soothing blend, add 3 drops Hyssop, 2 drops Mandarin and 1 drop Ginger to 15ml of Grapeseed oil and massage slowly and gently into the stomach with a clockwise motion.
Supporting the menstrual cycle
Hyssop can help to regulate the menstrual cycle and soothe symptoms of PMS/PMT. It is also useful for relieving water retention, particularly when related to the monthly cycle.
To support hormonal and water balance, add 2 drops Hyssop, 2 drops Geranium and 2 drops Rose to 15ml of Grapeseed oil and massage into the tummy in a clockwise direction.
Spiritual self-love
Finally, Hyssop has been described as a spiritual oil, helping you tap into self-love, awakening the heart and mind, and reminding you of oneness with the universe. So why not meditate with this oil?
To create a meditation spritz mix 15 drops Hyssop, 10 drops Cedarwood and 5 drops Ylang Ylang with 100ml of Orange Flower Hydrolat. Spray in your meditation space before meditation to create a cleansing and spiritual energy.
Alternative oils you may also love:
Lavender, Sweet Marjoram
Hyssop blends well with:
Angelica, Cedarwood, Clary Sage, Lemon, Geranium, Lavender, Mandarin, Melissa, Rose, Rosemary, Sweet Marjoram, Sweet Orange, Tangerine, Ylang Ylang.
Safety notes
Use in small amounts for no more than a few days at a time. It should not be used if pregnant, breastfeeding, with children under 2 years old or if suffering with a fever or high blood pressure.
So, with its range of 'cleansing' properties Hyssop could be an interesting oil to try as Spring approaches – not only to strengthen the immune system and rid the body of infection after all those seasonal bugs, but also to freshen the mind and leave Winter stresses behind. Why not try something new?
Nicole Barton
Consultant Aromatherapist
Read other articles by Nicole Barton
References:
Davis, Patricia. (1995) Aromatherapy An A-Z. Saffron Walden: C W Daniel Company Limited.
Worwood, Valerie. Ann. (2016) The Complete Book of Essential Oils and Aromatherapy, 25th Anniversary Edition. Novato, CA: New World Library.